This is a circular route around Nescliffe. You can either walk or cycle this route as it is on bridleways, though if you cycle, you will have to detour some parts, such as bypass the old Iron Age Hill Fort where cycling isn't allowed.
Our Review
This is an excellent forested route around Nescliffe hill.
You can either walk or ride, but if you plan on covering all the distances, then this is better for older children.
Riding the route
This route follows a bridleway for walking, cycling, and horses. If you are riding, be careful around blind corners, as there could be a horse coming the other way.
This trail has a mix of surfaces: gravel, dirt, and tarmac. There are a few short road sections on quiet country roads.
We found one section of the route quite overgrown with nettles, which we have marked on the map, so be careful of this section and make sure kids have long trousers if riding or walking through that part.
Some sections are not suitable for riding, such as going up to the trig point, which is narrow and steep. Cycling is also not permitted around the ancient Iron Age Hill Fort.
Kynaston's Cave
If you follow the route in the same direction we did, you will come to Kynaston's Cave in a high sandstone quarry.
Kynaston has a bit of a local legend around him. He was a local highwayman, but unlike the story of Dick Turpin, Kynaston is said to be more like Robin Hood, who stole from the rich and gave to the poor.
He hid in a cave within the quarry along with his horse Beelzebub, and you can still see that cave today.
Here's a video from the Bald Explorer for more information on Kynaston.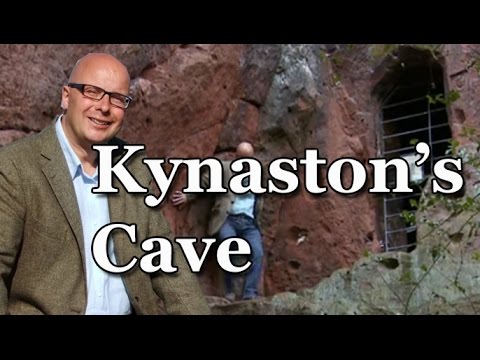 It is said that the highwayman used to visit the Old Three Pigeons Inn, and his seat is still there. This is on the road in Nescliffe, at the junction to the smaller road where you can find the carpark. It serves food and drink, and so a great place to stop off after a good walk around the hill.
Facilities
 Parking
 Dogs Welcome
 Picnic Area
Facilities Details
The car parks are free and there are seats and picnic benches in the woods.
On The Map
Directions
The map takes you to the Oaks Car Park, which is at the start and end of this route. The car park is free, but it isn't much more than a layby on a small country road.
There is another car park, also free, a bit further along the road. You can find it here: OS Grid Ref: SJ 38940 19846 Latitude: 52° 46' 21" N Longitude: 2° 54' 23" W
Address
Nescliffe Circular Route
The Oaks Car Park, Nescliffe
Shropshire
Shropshire
SY4 1DB
England

Longitude: -2.912621
Latitude: 52.77342