An Autumn Micro-adventure - Wild Camping on a hill in Wales
Posted by Gav Grayston.
First Published Oct 2014

; updated May 2023

.
Just because it's autumn it doesn't mean your adventures have to stop. Our Autumn Microadventure was night on a hill, and we saw some amazing sights.
---
Mid-October is not a time of year many families go camping, let alone camping without a tent and on a remote hill in Wales. But if you don't, you're missing out...
squeeze in a small adventure at the weekend
With all the day-to-day busy-ness of schools, work, after-school clubs, homework, etc., it can be hard to find time to take your kids on adventures. However, you can sometimes squeeze in a small adventure at the weekend. That's the spirit behind Microadventures.
Do something different, and do it within the time you have available.
One night doesn't diminish the experience, as you'll see...
An Autumn Microadventure
Here's a little video we made of our adventure.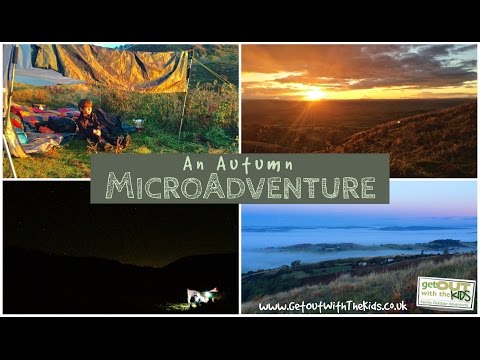 Our MicroAdventure Diary
14:00 - Assemble Our Kit
Ideally, we would have gotten our kit together beforehand, but the busy-ness of day-to-day life got in the way (as usual). Fortunately, we already had the kit; it was just a matter of getting it together. Click here for a run-down on the kit we took.
I was having this micro-adventure with our youngest.
He was excited about the weekend, and was going dressed in his Bear Grylls clothes, taking some of the Bear Grylls Dangerous Den Kit. The plan was a Bear Grylls-themed micro-adventure, but the adventure turned out more than that...
I had to carry the equipment for two people, which presented a few challenges. However, BG Junior was carrying as much as he could in his backpack (plus insisted on taking his 'army' water bottle).
16:30 - Arrive at Location
Much later than planned, we arrived at our location, just over Wales's border.
We set off on our hike with our feet sinking into the mud.
17:30 - Sun Starts Setting (already!)
The views were amazing. We were quite high, and on the distant horizon were the mountains of Snowdonia.
storm clouds parted, and the sun's rays lit up the countryside
The storm clouds parted, and the sun's rays lit up the countryside. It was spectacular.
The sun was getting low in the sky—time to head off to where we were spending the night.
18:00 - Making Camp
Technically wild camping is illegal in most parts of the UK (Scotland and Dartmoor are exceptions), though some places are where it is tolerated if you abide by some simple rules.
We knew the landowners who had kindly permitted us to wild camp.
We decided to take a spot higher up the hill for the views. This was a good decision, but it did mean there were no trees to attach our tarp shelter to.
We secured the tarp against the slope of the hill on one side and used walking poles to hold up the tarp at the front. Now we would be protected from any rain showers.
18:30 - Sunset
Who wouldn't want to sit and take in a view like this?
We were treated to a glorious sunset. Who wouldn't want to sit and take in a view like this?
18:40 - First Aid
Somehow I had managed to slice the end of my finger when setting up the Trangia. Fortunately, we always carry an emergency kit with a basic first aid set.
BG Junior knew what to do and helped tape my finger up.
18:50 - Time to Eat
As part of his 'army' experience, I'd bought some mess tins with a little hexi stove.
sausages and beans in the mess tins
Although you can get a wide variety of foods for backpacking, we kept things simple and heated some tins of sausages and beans in mess tins.
We also to the simple meal approach with the Trangia and cooked up pasta and sauce from an 'add water' pack.
19:30 - You know it's cold when...
You know it's cold when the chocolate bar you brought makes an audible crunch when you bite it
...the chocolate bar you brought makes an audible crunch when you bite it - just as if it had been left in a cold fridge.
A clear night was forecast with temperatures a few degrees above freezing (plus we were up a hill). We had dressed well with appropriate layers, including some good base layers.
As the temperature dropped, the BG shell jacket was swapped for the thick Kozi Kidz fleece. This is a great outer layer when it is cold but dry, and it kept our BG Junior snug.
20:00 - Milky Way
Not the chocolate bar but the galaxy (again, not that chocolate bar).
The Milky Way right above our head, just 25 minute's drive from home
You may have seen in books, the internet, and TV pictures of people camping with the sky lit up by millions of stars and a big cluster stretching across the sky. That's the Milky Way, right above our head, just a 25-minute drive from home.
transported from being on a hillside to flying through space
I tried capturing it on camera but failed and only got a few stars. A good picture, but does not show what we saw. We had been transported from being on a hillside in Wales to flying through space. Evening the opening titles of Star Wars don't show near the number of stars we saw.
Giving your kids moments like this is what it's all about
Although that wasn't the only impressive sight in our micro-adventure, our little lad said that seeing all those stars was the best bit. Giving your kids moments like this is what it's all about.
20:30 - Bed - Slide - Bed
The area we were sleeping in was flat...for a hill.
As soon as our sleeping bags went on the self-inflating mats, we slid down the hill and even poked outside the end of our shelter.
So after a bit of repositioning ourselves, we eventually found a position where we didn't slide - so much. Several times during the night, I had to lift BG Junior back up to his bed.
21:30 - What's that noise?
Just how many different noises can owls make?
05:00 - Very cold
It's always coldest before dawn, and I started to feel the cold creeping in.
I wasn't properly cold, but I could feel it starting to bite through the sleeping bag, and my face sticking out of the mummy sleeping bag felt the same as when it freezes in winter.
I'd been checking our little lad throughout the night. That Kozi Kidz fleece worked well. They remained warm even when he left his hands sticking outside the sleeping bag.
Extremities like hands and feet are the first to feel the cold as your body tries to keep the warm blood flow at its core. As his hands were warm, I knew he was warm. Mine were cold.
07:30 - Wow!
I had been lying in bed, not wanting to wake our BG junior.
This is what we woke up to
When he woke, he looked out of our shelter and said, 'Wow!'
This is what we woke up to.
islands in the Sea of Fog
The cold, damp air had settled in the valleys below, leaving the hills like islands in the Sea of Fog.
07:45 - Breakfast
First brew of the day
First brew of the day. Coffee, porridge, and more chocolate for BG Junior (at least he wasn't taking this BG thing too far and trying to eat the bugs!).
08:15 - Everything is wet
The problem when camping out this time of year, the cold, damp air makes everything wet. Our sleeping bags, sleeping mats, and of course, the tarp shelter.
Fortunately, this was only a one-night camp, so I could pack things up sufficiently for our hike out and clean and dry things when we got home.
It was Cold and Wet but Utterly Fantastic
If you take the right gear, you can handle cold and wet. The cold and wet are soon forgotten.
What won't be forgotten so readily, especially for my little lad, was sleeping out in the wilderness (like 'Bear Grylls'), seeing the sky filled with millions of stars, and waking up to find ourselves looking down on islands in a sea of fog.
Now it's your turn
You might not be prepared to sleep out during mid-October but don't dismiss doing something like this. Make a mental note, and when next summer comes around, why don't you take your kids on your own micro-adventure?
If you think you need a lot of kit for a micro-adventure, think again. In the next article, we go through some of the kit we took, what worked well, and what worked less well. It includes a little checklist of things you can use as a basis for your micro-adventure.