It's a shame to let all those carved pumpkins from Halloween go to waste.
You could re-use yours as a bird feeder.
This is a great little project you can do with your kids in the back garden.
What you need
A pumpkin (of course!)
Something to hang it with (some twine or chain for example), if you cannot place it somewhere.
Some good quality bird seed.
Making a Pumpkin Bird Feeder
Making a pumpkin bird feeder is quite simple.
Remove the top of your pumpkin. If yours is looking a bit worn around the carvings, slice that off, leaving a bowl shape.
Make sure the pumpkin is clean and not rotten.
Run some twine underneath the pumpkin, cradling it, and suspend somewhere in your garden.
Fill with good birdseed.
What about the pumpkin seeds?
It would make sense to clean the pumpkin seeds and use those too, but the RSPB say that although pumpkin seeds could be nutritious for the birds, they rarely take them.
It won't last forever
Remember that as soon as the pumpkin starts to look a little old and rotten, it's time to throw it away (or better still, compost it). Don't feed the birds food that has gone rotten or mouldy.
Pumpkin Bird Feeder Inspiration
Here are some pictures of pumpkin bird feeders made by others.
The hanging pumpkin feeder seems quite a hit with the birds in the garden. #Halloween pic.twitter.com/uyxdzDVyPj

— Wildlife Gadget Man (@WildlifeGadgets) October 23, 2015
Over at daisiesandpie they used a squash and made holes for hanging the twine from.
This is easier than making a cradle for the pumpkin though probably wouldn't last as long.

Over at Only Passionate Curiosity, they made these mini-pumpkin bird feeders, hanging them by skewering the pumpkins with twigs.
Over at Birds and Blooms, they used some sticks to make a perch for the birds, which is a nice touch.
Finally, if you want to get really creative with your pumpkin bird feeder then check out Hoosier Home Made.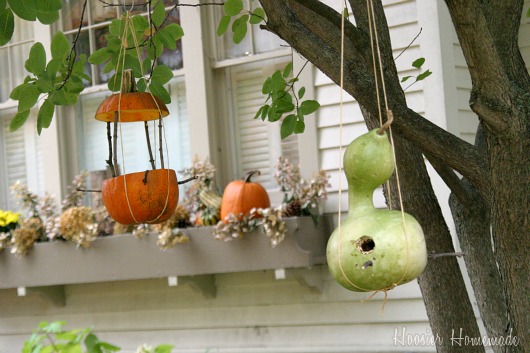 For more ideas on Pumpkin Bird Feeders, check out our Pinterest Board.
Remember to share a picture of your pumpkin bird feeder in the comments below.
Be in the know!
Join thousands of other parents and receive our regular newsletter containing a round up of the latest articles, days out, campsites, and reviews for helping you get your family outside and active.