How to make a Christmas Bird Feeder
Posted by Gav Grayston.
First Published Dec 2015

; updated May 2023

.
Don't forget the birds at Christmas. You can create some great festive Christmas bird feeders.
---
The run-up to Christmas always seems a busy time of year, but you can still do little things to get your kids outside.
This is a fun little project we came across, which is to make a festive bird feeder. After all, wintertime is when food gets scarce for the birds.
There are lots of different ideas for Christmas bird feeders.
The one that caught our eye was using pine cones.
You could go out to find pine cones on one day and then on another, turn them into festive-looking bird feeders.
It looks really simple.
Building the Christmas Bird Feeder
Thread something through the pine cone so that it hangs.
Roll the pine cone in peanut butter.
Sprinkle on birdseed.
Add decorative berries.
Still not sure how? This video from Nature for Kids shows how simple it is.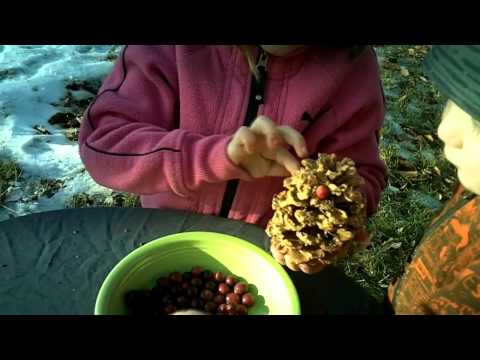 To make more sophisticated birdseed ornaments, the following video shows a technique that uses honey and flour to bind the birdseed together.