The Robens Birdseye 500 is a small modern tent with traditional touches, such as that canvas feel.
Robens Birdseye 500 Tent Photos
Our Review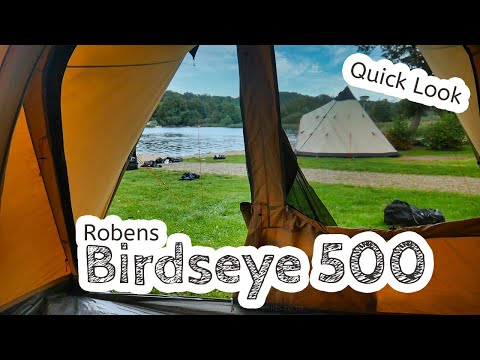 The Robens Birdseye 500 Tent is an interesting design. It almost resembles a little cabin, but with a huge porch 'brow' on the front.
The tent has one foot in the traditional, as the fabric feels like a canvas tent, yet it is very modern. The canvas is a technical polycotton, and this tent is also inflatable, apart from the steel pole to support that huge shelter on the front.
There are also modern features, such as Electric Hook-up cable entry.
This is not a big tent but does have the essentials: bedrooms inner, living space, and full head height. It also comes with two entrances, both of which can be screened with bug mesh.
The main door can be opened in a few different combinations, including half-open to provide privacy yet plenty of ventilation.
Details
Attribute
Robens Birdseye 500 Tent
RRP
£
Best Price
£
Product Info
Year Introduced
2020
Dimensions
Tent Details
Recommended Tent Use
Ideal for Weekend Camping
Sleeps
Sleeps 5
Bedrooms
2 Bedrooms
Frame Type
Inflatable, air frame
Tent Accessories
Tent Construction
Flysheet Fabric
Robens HydroTex Polycotton RS
Tent Windows
Tent Doors
Tent Bedrooms
Tent Living Space
Pitching and Storage