Coleman Ridgeline Plus Four Man Tent
The Coleman Ridgeline Plus is a small 4 person tent. For family camping we suggest that this is used for an overnight or weekend tent with small kids only.
Our Review
We suggest the Coleman Ridgeline Four Plus is only suitable for overnight or weekend camping with small kids.
The Coleman Ridgeline Plus is a small tent for family camping.
If you have a small family (i.e. at most, two very small children), and don't mind squashing up with your partner, then the Ridgeline could make a good weekend tent for summer camping.
It's not a tent we recommend for long summer stays, but if you are new to camping and just want to do the odd weekend, this is a very affordable tent that has quite a few positive reviews from other families.
Coleman Ridgeline Plus Interior
There's not a lot of space in this tent for a family, which is why recommend it as a small and quick to pitch tent that's ideal for weekend camping where you won't mind the lack of space for one night at a time.
Coleman Ridgeline Plus Layout
The downside with the Ridgeline, at least for family camping, is the lack of space. Specifically storage space for kids clothes, and if very small, nappies.
Don't be fooled by the layout picture.  You wouldn't put a table and chair inside this tent - not if you wanted space for anything else, such as yourself.
With this tent you'll need to keep a lot of gear in the car - for the single overnight or weekend camping this won't be a problem, but the lack of space is why we wouldn't recommend the Ridgeline Four Plus for any extended stays with the family.
However, if this layout appeals to you, then Coleman do the slightly larger Ridgeline Six Plus, which will give you slightly more space.
It sleeps 3 in each pod. Realistically you would still only sleep two in each pod, but you'll be more comfortable and have some storage space for bags.
In the 6 person version the living space is not very large, but large enough for some storage and getting the kids changed. (See the video on the More Information tab).
Pitching the Coleman Ridgeline Plus
With just four main tent poles, this is a simple-to-pitch dome tent.
If you are not familiar with pitching a dome tent then don't worry - they're easy.
They are very similar to pitching a tunnel tent, however, the large tent poles cross over to make a dome shape.
How to pitch a tunnel tent
Some useful links for Coleman Ridgeline Plus
Coleman Ridgeline Product Page
Here's the video from the Coleman Ridgeline Four Plus website....which talks about how large the tent is. Please note, that this is the video for the 6 person version, the Coleman Ridgeline 6 Plus.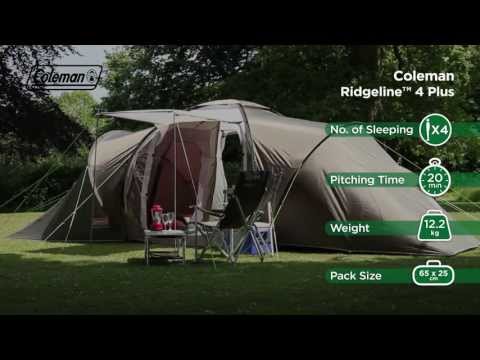 Coleman Ridgeline Plus Reviews
Reviews on Amazon for this tent were quite favourable. Here are some of the positive comments:
...there is plenty of head room in the middle area and the sleeping areas are a comfortable size to accomodate two adults. They will just fit a double airbed... ...It is fairly straightforward to put up and with two of us reading the instructions it took only 15mins in the field, not too bad... ...Brilliant in horrible conditions... ...I bought this tent because of it's separate sleeping compartments, so we could give the kids, and us, their own sleeping space....
There were a few though that complained of leaks and poor build quality, but that wasn't the case for most people.