icebike.org shared this amazing collection of people who have cycled around the world (see the big image at the bottom of this post).
Cycling the globe is an amazing feat in itself. However, included in the list are 6 families.
Let's zoom in on icebike.org's list and have a look at these amazing adventure families, who together, have cycled all over the globe, and totally up 88,439 miles!
---
The Larsson Family
Their Stats
2 parents with 2 kids
4300 km or 2672 miles
It took them 4 months
More info: pellefant69.se
The Larsson family took their kids on an epic around the world trip with bikes.
They used a mix of support vehicles (including using an RV in Canada) and cycling.
You should check out their photos on pellefant69.se.
---
Jens, Line, & Kids
Their Stats
2 parents with 2 kids
1430 km or 889 miles
It took them 2.5 months
More info: 11hjul.dk
This family cycled all the way from Basel to Budapest in Hungary.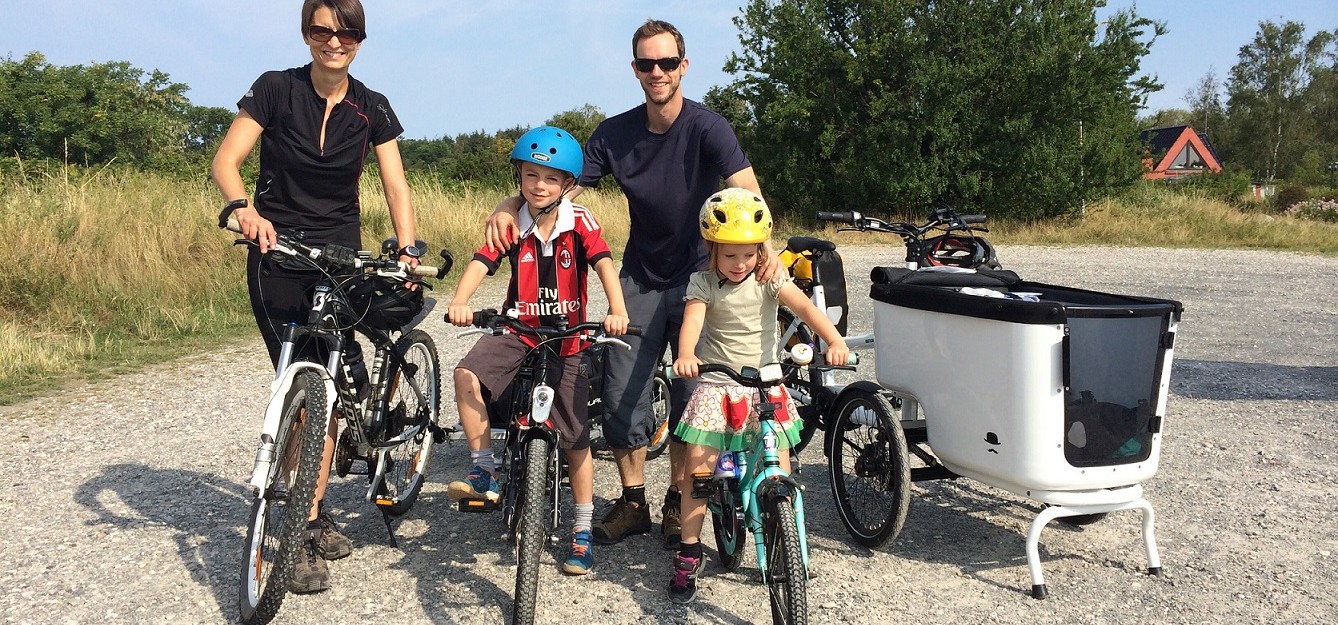 You can see the adventure they took last year at their web site '11 Wheels' (click here for English translation).
You might also want to check out their post on 7 little things they wouldn't do without. Some great tips even if you are not cycling across Europe.
BTW, the kids had the lightweight Frog Bikes and the big white thing in the photo is a 'cargo' carrier on the special tilting cargo bike from Butches & Bicycles.
---
Three by Bike
Their Stats
2 parents with 1 child
20,263 km or 12,591 miles
It took them 10 months
More info: 3bybike.com
This family took a whopping 12,591 mile trip by bike around the world.
You can see their route by clicking here.
They had an interesting bike design, with Anna sitting on the front of her dad's bike with a recliner seat, which meant she could pedal too.
---
Pedal Powered Family
This family, with 3 kids, cycled 8398 miles across North and Central America.
---
Family on Bikes
Their Stats
2 parents with 2 kids
27,834 km or 17,295 miles
It took them 33 months
More info: familyonbikes.org
This family spent three years pedalling the 17,295 miles from Alaska down to Argentina, the entire length of North to South America.
Check out their post on Cycling with Children and 49 Tips for a Long Distance Family Bike Ride.
---
Mundubicyclette
Their Stats
2 parents with 2 kids (one born on the trip!)
75,000 km or 46,603 miles
It took them 110 months
More info: mundubicyclette.be
This family spent 7 years, effectively cycling the world, not once, but twice!
After their first trip they just couldn't settle back to a 'normal' life, and so they hit the road again.
Click here to read a full interview with them, and about their children growing up in a bike trailer.
You can get a glimpse of this family's amazing adventures in their video:
---
Want to see more around the world cyclists? Click on the image below for a larger version.


---
Image credits: Round the World cyclists c/o icebike.org, Larsson Family Route c/o pellefant69.se, 11 Wheels photo c/o 11hjul.dk
Be in the know!
Join thousands of other parents and receive our regular newsletter containing a round up of the latest articles, days out, campsites, and reviews for helping you get your family outside and active.