Paddling to Rio via Windermere
Posted by Gav Grayston.
First Published May 2015

; updated May 2023

.
We've just completed one of the canoeing challenges on Lake Windermere. A few more miles closer to Rio!
---
We recently completed the National Go Canoeing Week's challenge of paddling to Rio.....by going canoeing on Lake Windermere....... This video explains: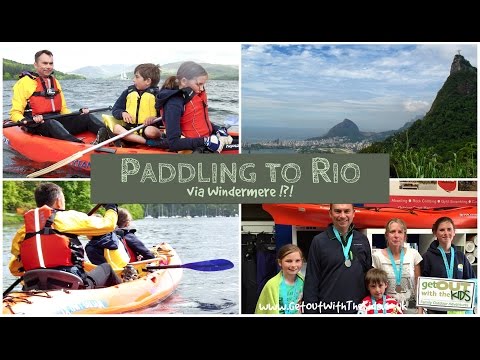 National Go Canoeing Week
National Go Canoeing Week is a great opportunity to get your family out on the water.
Events are put on up and down the country for both experienced and never-set-foot-in-a-canoe-before beginners.
There are canoe trails to complete, guided canoe tours, and beginner introductory sessions.
Paddling to Rio
This year, everyone taking part in National Go Canoeing Week has the opportunity to record the amount of miles they have paddled, simply by completing the form on the Go Canoeing Week web page.
The challenge for this year is to see if everyone's miles paddled will reach all the way to Rio, taking the non-direct route of paddling down the coast of Africa and across the southern Pacific Ocean.
The Windermere Challenge
One of the canoe trails available in National Go Canoeing Week was on Lake Windermere.....which is why we set off for Rio from England's largest inland lake!
Windermere had two routes. Either a 1 mile trail or a 3 mile trail.
We thought the kids would prefer the 1 mile trail, but instead we did the full 3 miles.
Wind, Islands, Mountains, and Sunshine
If you've been to Windermere you already know how picturesque it is.
On the lake there are some islands. Most of these you cannot go to shore on, but there is one that you can, so if you are canoeing, you can stop off in one of the few places on Windermere many tourists have never visited.
When we visited we did find it quite windy. Enough for some waves to have built across the lake.
However, as soon as we got out of the wind sheltering behind a massive private island, the sun came out.  Not quite as warm as Rio, but very welcome 🙂
Fancy giving it a go?
There are a few canoe and kayak hire places in Windermere.
We went from Windermere Canoe and Kayak, who provided kayaks, paddles, wetsuits, and buoyancy aids.
If you are inexperienced, they can also provide guided tours and coaching, plus you can have a go at a Stand-up Paddleboard too.