Walking Boots Get a Dunking: We review Peter Storm Ormskirk
Worried about the quality of high-street walking boots? We give the Peter Storm Ormskirk Walking Boots a test. Plus, tips on what to look for when buying walking boots on the high street.
Review Score
We've given the Peter Storm Ormskirk the Thumbs Up award.
Value for Money
Quality
Comfort
The good
Very warm and comfortable.
The not so good
The insulation made my feet too hot on warm days.
The waterproofing failed after a few years.
This was a hands-on product review.
Our Review
***In this review of the Peter Storm Ormskirk walking boots, we give them a good dunking to see how waterproof they really are. ***
Not everyone can justify the money for a pair of high-end walking boots, especially when you have kids to kit out too, and perhaps you don't get out hiking as much as you would like.
Well, you can get some decent boots on the high street that don't cost too much.
We tried out the Peter Storm Ormskirk walking boots. At the time of writing this they were on offer at both Millets and Blacks or £40.
Are High Street Walking Boots Any Good?
As with most things, you do get what you pay for. But if you keep an eye out for a good deal in the shops, you can pick up a pair of walking boots without breaking the bank.
Now you wouldn't be trekking the Himalayas, but for the occasional hike with kids, there's no excuse not to kit yourself out.
Things to look for when buying walking boots
Try a pair on. If possible, take some walking socks with you.
You want the boot to support your ankle when the ground is unstable, but not be uncomfortable to walk in.
Shops like Blacks, Millets, or Cotswold Outdoor on the high street usually have the staff to help you find a good fit, and sometimes an area to try them out too.
Be careful of really good prices from some shops. Some things can cook like walking boots but are just trainers just dressed up.
Walking boots should have a much firmer sole than any trainer, with much deeper treads too.
Look for how the sole fits the shoe. It should come up the side of the boot a little way, and not just stuck on underneath, as it would with a trainer.
Check the stitching. Poor stitching can come undone as well as being a source for leaks.
Are the Peter Storm Ormskirk Walking Boots any good?
The Ormskirk Boots feel very comfortable.
They also feel a little warm. Ideal for the cooler months but not too sure about them for summer use (mind you, it is November currently, so trying them in summer will have to wait a while now).
Some of the reviews on the internet reported that the boots leaked. This was a concern: are we trading price for quality?
So with that in mind, we gave them a good test: We dunked them in a bucket of water.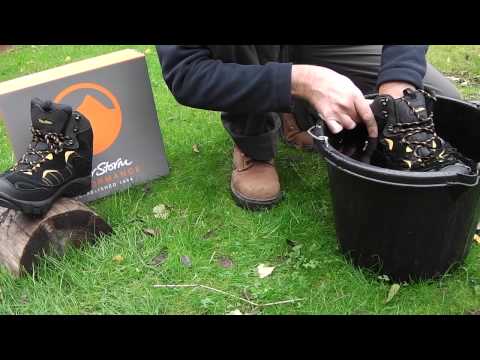 The boot held up well. No water came in, even when I held them under the water, completely covering the laces and the tongue.
Although the walking boots were soaked, it wasn't quite the same as a real downpour though: if you have waterproof trousers on, all that rainwater heads straight down to your boots, and if you've not protected your legs correctly (i.e. wear some gaiters - see here), your boots will fill with water.
I can't say what the cause for other reviewers to get wet feet was - maybe they did get a bad pair - but when I tried the boots, they did remain dry.
Taking them up on the hills and through muddy forests, the boots have remained comfortable and dry.
I'll update this post if I find any issues with them, but I'm pleased with the Ormskirk boots.
---
Update 2 years on
Well, the boots had lots of use. And I mean, lots of use.
They didn't fall apart.
However, I did notice that they lost their waterproof coating. You can easily reapply this with products from the likes of Granger. However, I have since been testing a HiTech pair of boots, and so I haven't needed to treat them.