Vango Skye Family Tents - Skye V 400, V 500, and V 600
The Vango Skye range of tents comes in 3 sizes: V 400, V 500, and V 600. The V 400 and V 500 have two bedrooms; the V 600 has three.
Our Review
New for 2014 is the Vango Skye range of tents, complete with a front canopy and panoramic windows.
Vango Skye Range
The Vango Skye range of tents come in three sizes:
Skye V 400 - A four-person tent with two bedrooms
Skye V 500 - A five-person tent with two bedrooms
Skye V 600 - A six-person tent with three bedrooms
The Layout
These tents are a simple cabin-style shape, with the bedrooms in a row along the rear of the tent.
This layout is ideal if you have young kids, as you can just unzip the partition between one of the bedrooms at night if you need to tend to them. (Only one partition unzips in the Skye V 600).
The living area is OK for storage and has large windows to let in plenty of light.
The tent also has useful storage pockets, which are great for loose items, from toys to torches.
Tent Tour
Here's a quick video tour we made of the Vango Skye V 500.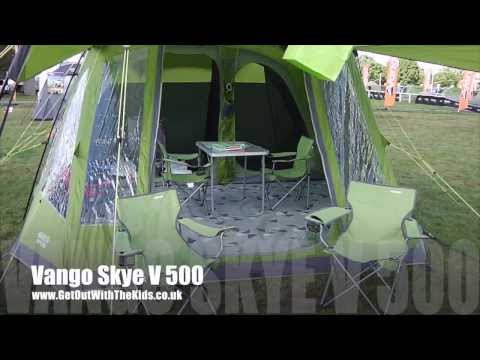 The big thing noticeable on this tent is the front canopy. Ideal for keeping the sun off if you want some shade, or (and more often the case in the UK), to keep off the odd shower.
Despite the weather, this provides a great space to sit outside and still do activities like cooking.
You may want to get a windbreak to cover one side to keep out any breeze. This is what we often do to protect the cooking area.
The tent fabric is polyester with a 4000mm hydrostatic head (if you are not sure what that means, then click here), and the tent poles are fibreglass.
(If you want a polycotton AirBeam version of this tent, have a look at the Vango Eden).