Vango Inspire - AirBeam Family Tent
The Vango Inspire comes as a 5 person (Inspire 500) or 6 person (600) family sized AirBeam tent. There's plenty of living space as well as two or three bedrooms.
Vango Inspire Photos
Our Review
The Vango Inspire comes in two sizes (Vango Inspire 500 and Inspire 600). A quick-pitching air framed large family tent.
---
The Vango Inspire is part of Vango's AirBeam range of inflatable family tents.
The inspire uses a 6000mm Hydrostatic Head Polyester material (click here to read more about Hydrostatic Head or different Tent Materials). Some polycotton AirBeams in the past were quite heavy, but the polyester is much lighter, and so will be easier to transport and pitch.
Both the 500 and 600 have a sheltered cabin style entrance, in addition to a side storm porch, making them ideal if the weather changes and starts to rain.
There's also a good size living space, providing plenty of storage for all your gear when going on a camping holiday.
---
Vango Inspire 500
The Vango Inspire 500 is a 5-person tent with two bedrooms.
We think this is ideal for Mum, Dad, and two children.
Vango Inspire 600
The Inspire 600 is a 6-person tent with three bedrooms. Ideal for Mum, Dad, and 3 to 4 children.
You can also unzip the central sleeping pod to get into the one on its right. This is ideal if you have small children as you can easily get to them at night without having to even leave your sleeping bag.  
Here's a quick video tour of the Vango Inspire 600 tent.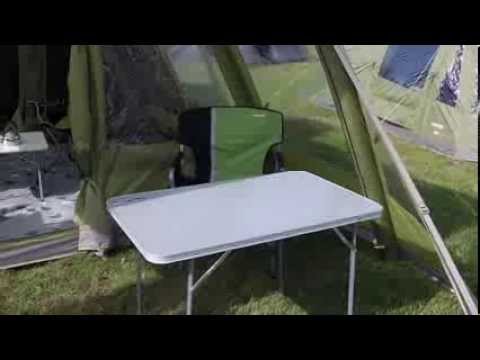 Cool Features
In addition to the really good entrances to the tent, the porch also contains a small storage tent. This is great for keeping toys and games, without worrying about them blowing about at night.
When we saw this tent there was also carpets for the sleeping pods.
Getting a carpet for the tent is a good idea (click here to see why). As with most tent carpets, the carpet for the Inspire covers the living area. However, you can also purchase a 'Rug', as Vango call it, to fit in the sleeping area.
Putting these in the sleeping areas will make it slightly warmer at night, as the rugs will provide some ground insulation. You lose a lot of heat in the night through the ground.