Vango Eden AirBeam - Family Camping, Safari Style
The Vango Eden comes in a 4 person (V 400), 5 person (V 500), and 6 person (V 600XL) sizes. Polycotton and AirBeam. The V 600 XL is one big family tent.
Our Review
The Vango Eden V range sports a new Safari look in 2014. Available as a V 400, V 500, or V600XL AirBeam tents.
---
The Vango Eden range is new for 2014, and the Poly-Cotton material is in traditional safari looking colours.
You can get the eden range as a four person (Eden V 400), a five person (Eden V 500), and a six person (Eden V 600XL). All are  Air Beams.
The Eden V 400 and V 500 tents have two bedrooms. The Eden V 600XL can have either two bedrooms, with one very large room, or put a divider in the large room to make a 3 bedroom tent.
Here's a walk around video we made of the Vango V 600XL tent, though note that Vango tweaked the design since to enable the extra bedroom in the V 600 XL (check latest details on the Vango website).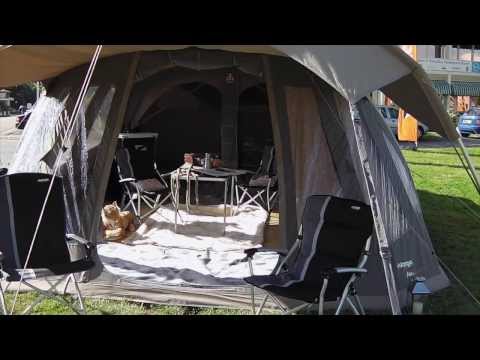 To get an idea of size, here's the Eden V 400 layout and dimensions next to the Eden V 600XL.
The Polycotton material did make this tent feel very luxurious. Polycotton is breathable and insulates you better from the heat and cold than normal polyester tent material, but it can be heavy to transport and pitch (see here for a comparison and benefits of different tent materials).
For example, Vango say the weight of the Eden V 600 XL is just under 60kg. That's the weight of a small person, and something to take under consideration when transporting and pitching.
They also claim that it can be pitched in 12 minutes. Whilst Air Frame tents are quicker to pitch, I think 12 minutes would be time required to just pump up the tent (assuming you don't get out of puff), and not time to unpack the tent, and peg out (...and put in the carpet, put up the inner tents, load all the family's gear, etc., etc.).
With the Eden tents you can also get a Footprint, Carpet, and a Side Awning. Though with the size of the Eden V 600 XL, a side awning may not be necessary.
---
2015 Update
In 2015 the Eden stays in Vango's range, though I know of one bad review of this tent (one bad review doesn't mean they are all bad), but in 2015 Vango has made another large polycotton AirBeam called the Euphoria 600.
Vango Eden 600 XL vs Vango Euphoria 600
The Euphoria gives you a bigger living space, and if you are thinking of buying a Vango Eden, you might be wondering if it is worth the extra for the new Vango Euphoria, since they both accommodate 6 people across 3 bedrooms. So we've put their details here side by side, to help you decide which is best for you.
Vango Eden 600 and Vango Euphoria 600 Comparison