Using the Outwell Inlayzzz Carpet to make your tent bedrooms snug
Making your tent's bedrooms warm and comfortable is a must for a great family camping experience. The Outwell Inlayzzz can help with that.
Review Score
I've always found that improving everyone's sleeping conditions when camping provides some of the biggest benefits for an enjoyable family camp. The Outwell Inlayzzz carpet is just one of those investments you want to consider.
We've given the Outwell Inlayzzz Carpet the Thumbs Up award.
The good
The Inlayzzz carpet is not just a regular carpet for your tent's bedrooms: it's well insulated, helping make your bedroom warmer and much more comfortable.
The not so good
You could make do with cheaper alternatives to fit out all of your tent's bedrooms, but the Outwell Inlayzzz does provide good insulation and comfort all in one easy-to-use package. Use our price search to help find a good price.
This was a hands-on product review. The product was supplied to us to test and conduct the review.
Our Review
A tent carpet is more than just decoration; a well-insulated carpet can make your tent feel much warmer as it provides vital ground insulation.
A place where you want ground insulation is in the tent's bedrooms. Unfortunately, many tent carpets, such as those from Outwell and other brands, only cover the tent's living space and not the bedroom.
I can understand why, since the tent's carpet can't roll into the bedrooms as the bedrooms are on a different groundsheet, floating above the main tent groundsheet. However, I've always thought it odd that there's no carpet where you need the most insulation.
We've always added extra blankets and rugs in the bedroom as it makes such a difference, especially when it is colder.
Fortunately, Outwell has now addressed the bedroom with their new Inlayzzz carpet.
Inlayzzz - Helping make your tent bedroom cosy
If you've never tried insulating your tent's bedroom, I urge you to try it. It will make a big difference, especially in the cooler times of the year, especially if you use an air bed.
Outwell has made this bedroom carpet extra insulated
The cold ground can make the air in your airbed cold, which can make you cold. A cold air bed on a warm body can also cause condensation on the air bed where you are sleeping. If this gets into your sleeping bag, you'll be cold and damp, even if you have a well-insulated sleeping bag.
Outwell has addressed this by making the Inlayzzz available to fit many tent bedrooms (and not just Outwell tent bedrooms if the size is right), but Outwell has made this bedroom carpet extra insulated.
Unlike normal tent carpets that roll up, the Inlayzzz carpet has foam panels, providing excellent ground insulation (an R-Value of 1.5, to be precise).
The top of the Outwell Inlayzzz isn't as plush as some other Outwell tent carpets, but it has that fleecy-fabric feel and is noticeably warmer and softer underfoot than the tent's floor.
Different Sizes
The Inlayzzz carpet comes in 3 different sizes:
120 x 200 cm
140 x 200 cm
160 x 200 cm
Here's a video from Outwell: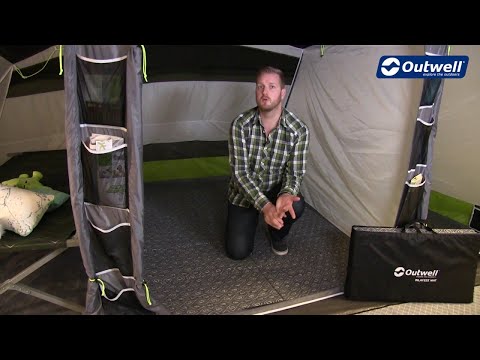 Verdict
Of course, you don't need this carpet, and if you have insulated picnic rugs and other travel rugs, you can make a big difference to your tent. The foam kids' play mats that slot together can also work well.
However, if you don't want to 'make-do' and want good ground insulation in your bedroom that feels like a carpet - and matches your main carpet if you have an Outwell tent - then this is an item you want to consider to improve your camping experience.