Skandika Saturn 6 - A family tent with plenty of indoor and outdoor living
The Skandika Saturn 6 provides a large family tent. The two bedrooms provide some separation from the kids, with a good large living area.
Our Review
The Skandika Saturn 6 is a good entry-level family tent with lots of features and good indoor and outdoor features.
Our Opinion
This is a good-sized family tent.
The two bedrooms provide separation between parents and kids - if your kids don't mind sharing of course.
Rated as a 6 man, you could probably get 3 kids into one bedroom, as the width is quite wide.
A good thing about this tent is the large, light communal area, with a large door that opens onto the porch - great for activities and eating when wet or colder. 
The living area also features a skylight.
The porch also makes a good entrance when raining. This is also a great place to leave all your wet gear and not bring it into the tent.
Put up a windbreak across the large front porch, and you should also be able to sit out, sheltered from any breeze.
This area is a great place to cook, eat, and not worry too much about the weather.
There's also plenty of headroom, so there is no need to stoop!
Pitching Instructions
The video below shows how to pitch the Skandika Saturn.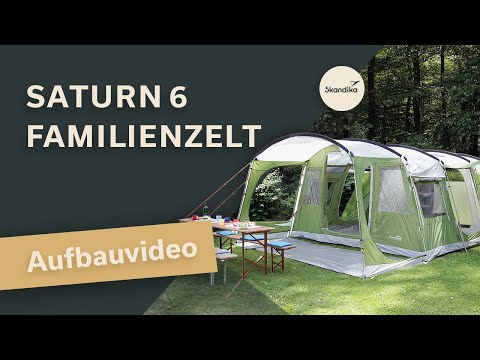 View Skandika Saturn 6 assembly instructions.
Reviews
"Survived a gale in Cumbria intact and with us dry inside. Absolutely massive.... I really LOVE this tent.", Morgan0140, Amazon.co.uk customer