Outwell Yosemite Falls - The King of Family Tents?
Outwell's Yosemite Falls is ideal for those family camping holidays. Packed full of features to help make the most of your holiday. Is this the king of family tents?
Our Review
The Outwell Yosemite Falls is by one of the leading brands in family camping. It is in their top-end Ambiente Collection, and it's the biggest (and most expensive) family tent in the collection. Is this the king of family tents?
What the Yosemite Falls can do for you...
So there you are, planning your next family holiday. Perhaps your kids are older now, and whereas you used to jet off to the Costa Del Something, but now you can only go away in the expensive school holidays, and have to pay adult prices on the flights (...it's ridiculous that airlines consider a 12-year-old an adult!). Or perhaps you also want to bring a grandparent or two.
This year you are going to save several £1000s and go to one of the many excellent places in the UK. And you're going camping.
Perhaps you plan a long stay in the beautiful Mull of Kintyre, exploring the islands, pitching by the beach, and watching the sunset in the evening. Or perhaps you are going to stay near Bude in Cornwall and do some surfing, which you always wanted to try.
Not everyone is too keen on the idea of camping. They don't want to be cramped up in a little tent, sleeping on the floor, and unable to do anything except get bored when it rains.
So you've decided to get the best gear to make sure this camping holiday will be an excellent holiday everyone will enjoy. You've searched the internet and found that even if you bought any of the most expensive family tents, you will still be saving £1000s over that holiday to the Costa Del Something.
You've worked out what you need:
A tent with three bedrooms that can accommodate 6 of us.
Enough room in the bedrooms for camp beds. Only the kids want to sleep on the floor.
Plenty of room for storage as they'll be a lot of clothes for all of us for the holiday.
Somewhere with enough room for us all to sit inside...but it's got to feel more like sitting in a living room than squatting in a tent.
Something solid that won't be bothered by a bit of wind (it can get breezy by the sea).
A tent that is straightforward to pitch.
A tent that doesn't leak and I'm not going to have to worry about condensation.
It will probably rain at some point, so somewhere to hang wet clothes and leave muddy boots.
Something that's not going to get too hot, and also where I can run an electric cable to run a heater and keep the tent warm if the weather turns cold.
You soon realise that the Outwell Yosemite Falls is just the ticket. Let's see why....
What you get with the Outwell Yosemite Falls
As you would expect, the Yosemite Falls comes packed full of features that are ideal for family camping. Here's just a few of them...
Let's go through these in a bit more detail.
Yosemite Falls Interior
The Yosemite Falls is a large tent and gives you plenty of space in the interior.
As well as 3 bedrooms, the Yosemite Falls comes with a walk-in wardrobe. Now, this may sound a little excessive, but if you've done any camping you'll soon find your living space gets full of bags.  You can buy wardrobes, of course, to help with the storage, but the Yosemite Falls has this built-in, complete with hanging rail.
Now if hanging clothes is not high on your priority list (...it's not on mine...), then have a look at the new Outwell Luggage.  This is a holdall where you can pack your clothes as normal, but the magic sauce with the Outwell Luggage is that when you get to camp the holdall simply hangs on the rail.  You unzip the front and all your clothes are on shelves - without even having to unpack. Ingenious. This will save a lot of time. (We'll have more on the Outwell Luggage in a future post).
There are lots of other innovative features in the living space, from little things like the wave shaped hanging system for the bedrooms (this will reduce wear), lots of mesh pockets, cable entry points with velcro cable tidies, to the fact that you have two large living spaces with large tinted windows.
I really like the fact that this tent also comes with a built-in extension. You can pitch some tents quite quickly, but then spend an even longer time putting up the extension, believe me. With the Yosemite Falls, you don't need to worry about it.
Another fun addition to this tent is the low-level bedroom window. Kid's will love this...but it's also useful for checking the weather outside from the comfort of your warm sleeping bag.
On the practical side, I was really impressed by this tent having drying rails in the extension (as well as a ground sheet you can roll back). This may not appear that amazing, but when I saw this I knew this tent was designed by real family campers. Just look at our video of camping in a storm last year. When it does get wet you need somewhere to let your wet raincoats drip dry, and somewhere to put wet and muddy boots on the floor.
In a normal tent extension, you'll be hanging clothes from the guy lines, which takes up a lot of usable space. Oh, and as the extension is part of the tent, you won't be tripping over guy lines inside the tent either!
Here's a video from Outwell for a tour of the tent.
http://www.youtube.com/watch?v=iF1mFSyplQg
There are more specifications on the Outwell website.
Yosemite Falls Exterior & Pitching
The Yosemite Falls uses Outwell's Outtex Ripstop Cotton.
This material is breathable and insulates well, and will give that classic feel to the tent. (For more details on Tent Fabrics, read our guide here)
Outwell are one of the very few manufacturers that ship their tents with decent tent pegs. No cheap wire pegs here that are not up to the job.
Here's a photo I took of the pegs (along with a pen so that you can see how big they are).
The Outwell Pegging System makes it simple to get the right tent pegs in the right places.
The Yosemite Falls also comes with the Outwell Floating Guyline System.
Here, two guy lines come to a single line, so that you only have to peg out half the lines than you would on some other tents.
There are also little storage points for the guy lines so that the tent goes away tidy and ready for pitching the next time you go camping.
The tent poles are made from a metal alloy, so they're nice and strong.
The poles are inserted into sleeves around the tent and effectively disappear from sight when the tent is pitched. This hiding of the tent poles reduces the impact of the wind on the tent, both with noise and improving stability.
The last set of tent poles are slightly smaller than the others, but Outwell has colour-coded them (see the blue ring in the photo), so it's straightforward to pitch.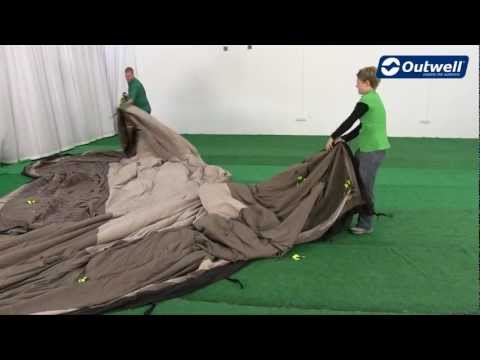 Is the Yosemite Falls the King of Tents?
This is certainly an impressive tent, with a ton of great features, and designed and built by family camping experts, but it won't be right for every situation.
This tent is ideal for a family holiday where you are staying a number of nights (probably a minimum of 4 nights to make it worthwhile). Transporting and pitching could be a bit much for just a one-night weekend camp. (Many people with large holiday tents may have a smaller tent for quick getaways at the weekend).
You will need to be able to transport it and pitch it. The tent comes in two bags. One is just over 37kg; the other just over 40kg. You will need a large car, SUV, and/or trailer and ideally two people to pitch.
The cotton fabric is great but will require some maintenance (see our guide here). The main thing is to ensure you wet the tent before going on holiday as this will actually help improve the waterproofing of the cotton. You should also make sure the tent is completely dry before packing away.
It is an expensive tent - a lot cheaper than a family holiday - but still an investment. It's not surprising how expensive it is given all the features and quantity of materials in this large tent. If you can't afford it though, you can find smaller tents in the Ambiente collection, or some of the same innovative features repeated in other tents across the Outwell range.