Outwell Wolf Lake - Great for Family Camping Holidays
The Outwell Wolf Lake is a great tent for family camping holidays. It comes in a 5 or 7 man versions with lots of great features.
Our Review
The Outwell Wolf Lake comes in two sizes: the Wolf Lake 7 and the Wolf Lake 5 - both packed full of features for great family camping holidays.
If you are planning a family camping holiday you can't go far wrong with the ever popular Outwell Wolf Lake tents.
With plenty of space, for both storage and living, the Wolf Lake comes with some great features.
There are lots of features on the Wolf Lake (for a full list of features, see the Outwell web page), but there are a couple of things that make the Wolf Lake tents stand out, and are particularly great for family camping.
The Wolf Lake's Extension is Built-In
With many tents you have to purchase an additional extension to provide that extra shelter so that you have somewhere undercover to protect items from the wind and the rain, without cluttering up your main tent.
An extension provides you with a good way to enter the tent without dripping water in your inner tent if you get caught in a rain shower, or you have muddy boots, and can be treated as a large porch for your tent. They're also a good place to let wet clothes hang to dry.
Well, the Outwell Wolf Lake comes with this weather protecting extension already built in. This saves of having to purchase an additional item, having to pitch an additional item, and you don't have guy lines inside the Wolf Lake, as you may do with some add-on tent extensions.
Outwell, being family campers themselves, have thought this tent through, and have even provided some hanging rails for you to dry out any wet clothes - either from the rain or from the beach.
This front part of the Wolf Lake is quite large. Here's a picture I took of a camp bed sitting comfortably in the Wolf Lake 7, providing a great spot to relax, out of the breeze, but still able to keep an eye on the kids.
This large space is very flexible. Use it to sit, to eat, and even somewhere to put the kids' bikes away at night.
If you don't like the open ended aspect of the Wolf Lake then you can purchase a conversion kit to completely seal it up, though you may find this isn't that necessary.
Wolf Lake's Walk-in Wardrobe
You may be thinking that a tent with a walk-in wardrobe is a bit excessive. You may think that the space would be better as a bedroom.
Well, the problem with tents that just have bedrooms is that there's often little room for bags. And with a family, as you know, you end up taking a lot of clothes/foods/toys and all the other things you need as a family.
This wardrobe is a great solution, providing you with a space to get all that stuff out of the way.
It comes with a hanging rail and useful mesh storage pockets.
In the photo here is the excellent Outwell Luggage 80, where you can pack your clothes in this specially designed holdall and simply hang it straight in the wardrobe.  You then unzip the front and all your clothes are instantly on shelves without having to do any unpacking! (We will be bringing more details on this in a future post).
Some people have also used the wardrobe for other uses....by placing a portable toilet in there.
---
Other features of the Wolf Lake
As mentioned before, there's lots of features of the Wolf Lake tents. Here's a quick summary of what you get.
This tent is polycotton, so it's better when the weather's hot or the weather's cold, and it breathes so that there is less condensation. You can read more about tent fabrics, and the pros and cons of polycotton, here. On Wolf Lake 7, the tent fabric weighs 33.9 kg and on Wolf Lake 5 26.8 kg. You will need more than one person to pitch this large family tent.
Alloy poles provide a rigid frame. The poles on the Wolf Lake 7 weigh 27 kg and on the Wolf Lake 5 22.1 kg.
The tent uses the Outwell Floating Guyline system, which provides stability and less pegging out. It also uses the Outwell colour coded pegs (which are good tent pegs), to help you pitch correctly.
There are other good design features such as a mud valence to help protect from wind and rain, sealed zips, wind stabilisation, tinted windows, and a great little window in the sleeping area so you can see what the weather's like outside without even having to leave your sleeping bag!
Pitching the Wolf Lake
Due to the size and weight of the tent, it's not recommended that just one person pitches the tent alone. But size and weight aside, you needn't worry about it being a complicated tent to put up: there's no complicated set of different poles that have to be inserted at funny angles. This is straightforward, and there's colour coding to help ensure you pitch it successfully.
Outwell have put together this video, which shows you a step-by-step approach to successfully pitching.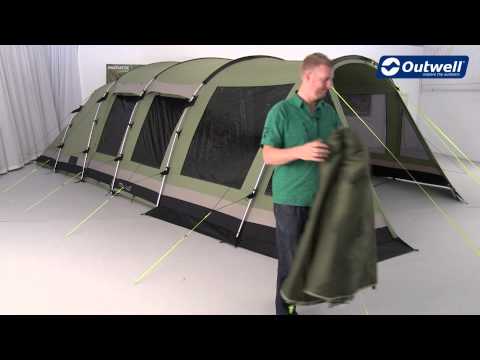 If you buy a Wolf Lake, pitch this at home (or somewhere where there's space) before travelling to the campsite. You should also wet the tent to help ensure all the seams are sealed (read why here).
With the size and weight of this tent, we recommend the Wolf Lake is great for family holidays, but if you want something that's quick to pitch for one-night weekend camping, look at the Smart Air tents or smaller 'weekend' alternatives.