Outwell Tomcat MP and LP - Inflatable Family Tents
The Outwell Tomcat family tent comes in two sizes and is a fast pitching air framed tent, ideal for weekend camping or longer holidays with the extension.
Our Review
For a family tent that's simple and quick to pitch, you can't go far wrong with the Outwell Tomcat. You simply pump it up when you get to the campsite.
---
The Outwell Tomcat comes in two sizes: the MP, a 5-person 2-bedroom tent, and the LP, a 6-person and 2-bedroom tent.
These tents are part of Outwell's Smart Air Polyester collection, so no tent poles are required. You use the pump provided to inflate the tent.
These tents have a polyester-based fabric that may be found on other inflatable tents, a lighter material than polycotton. This makes it even easier to pitch as the larger LP is only 29.3kg, and the smaller MP is 23kg. (The polycotton equivalent of these tents are 35.4kg, and 29kg, respectively).  Couple that with Outwell's One-Go inflation, and you could be pitched quickly.
The tents have classic panoramic windows on the front, as is popular on many Outwell tents. This gives that little extra living space and lets in plenty of light.
The side storm entrance is particularly useful on these tents, which is protected with a small porch designed to minimise rain entering the tent if you have bad weather.
The Tomcat roofs are coloured white, maximising the light in the tent's interior. A tent with this type of roof is a lot brighter. The downside is that it can get too light in the early summer mornings. Fortunately, Outwell has also thought of that, and the bedroom compartments are darkened with a 'Night Sky Ceiling'.
Talking of mornings, the Tomcat also has a small window in the bedroom area, so someone can check the weather outside without leaving their warm cosy sleeping bag!
Outwell Tomcat LP Video Tour
Here's a video tour of the Tomcat LP from Outwell. If you wish to view the video of the Tomcat MP you can find it here.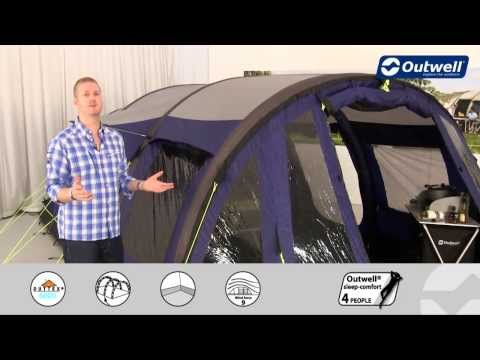 ---
Great Weekend Campers
Both of these tents are ideal to have packed and ready to go for that quick weekend getaway.
With their ability to be pitched quickly, you'll get the most out of one or two night stays, leaving you with more time to get on with other activities, such as cooking over the campfire, or going to see a local attraction.
These tents are ideal for Mum, Dad, and two kids - maybe 3 if they like sharing!
The Tomcat MP has a little less living space than the Tomcat LP. There is enough room for bags for a weekend stay, but this limited space may become a problem for longer camping holidays. However, Outwell has a solution to this...
---
Tomcat MP and LP Extension
The same inflatable extension can be used with either the Tomcat MP or Tomcat LP, and adds more space to the front of the tent.
For quick weekend getaways, you probably won't need the extension on the tent, but if you plan on camping for longer stays, the extension will enable you to get even more out of your tent, using it for both weekends and longer holidays.
The extension can convert your nimble little Tomcat MP into a much bigger family tent. It simply zips onto the front of the Tomcat, and has a large 'windbreak' protected entrance.
---
Update: A new look for 2015
The Tomcat design has been slightly tweaked for 2015 and now sports a canopy over the front door.
We recommend looking at the Tomcat LP for that additional space it gives you.