The Outwell Oakland XL is a great family tent with two bedrooms (one larger than the other) and a good-sized living area. Carpet and Extensions are also available.
Our Review
The Outwell Oakland XL, updated for 2012, is a good family tent with many useful features.
Our Opinion of the Outwell Oakland XL
This is a good sized family tent with some well thought through features.
It has two bedrooms that are arranged side by side, with an interconnecting panel that unzips, making it easy to get to little ones in the night if you have to.
One bedroom is a 3 person size and the other a 2 person
Unlike many other tents of this layout the tent bedrooms are not 50:50 with the space.  One bedroom is a 3 person size and the other a 2 person.
This gives you a bit more choice: Mum & Dad and three kids, or - and our preference ;-)  - Mum and Dad with a bit more space and two kids.
As well as the decent sleeping areas it has a good sized living space, with enough room to store bags, cupboards, and a table to eat around.
2012 model introduces a rain shelter over door
Entrance to the tent is either via the large door at the front, or a through a side door.
New for this 2012 model is a rain shelter around the side door.  This may not protected against full-on horizontal rain, but solves the problem with a lot of sloping side door entrances that let in the rain when the door opens.
With some useful extras as well, the Outwell Oakland XL is a good family sized tent.
Features
It is made from Fire Retardant material coated with Outtex 4000, providing 4000 mm hydrostatic protection - i.e. it's waterproof.
Uses steel poles for the man body of the tent and re-enforced fibreglass poles everywhere else.
Outwell Easy Pegging System: different coloured and types of pegs to make putting up easy and secure.
Outwell Wind Stabilising System helps the guy lines keep a firm hold of the tent in the wind.
Full standing head height.
Power Cable entry point.
Easy to see reflective guy lines.
Lots of handy storage pockets inside.
Big bright windows, but can be toggled up for privacy.
Outwell's Video for the Oakland XL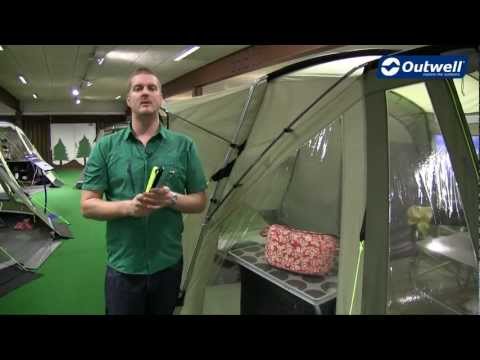 Pitching
Here's a useful video showing how easy it is to pitch the Oakland tent.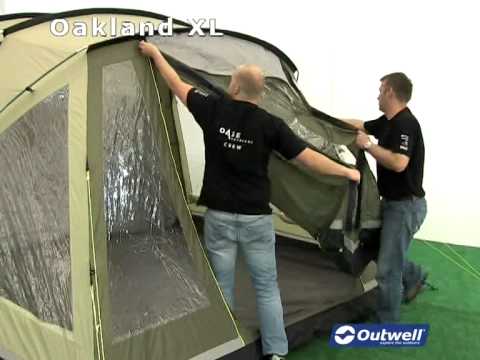 Outwell's tents are relatively easy to pitch.
The body of the tent is a steel frame tunnel-style of tent, which is straightforward to put up.
The Oakland XL also has a fibreglass pole that extends the tent's front living area.  This fits into attachment points on the steel frame.
The sleeves that the poles are inserted to are colour coded, making the job very straightforward.
Family Camping? Have a look at the Oakland's cousin
If you have a couple of young kids it's well worth a look at the Outwell Magic 5.  It is essentially the same tent as the Oakland XL, but comes with a children's room and games.
Happy Camping!
Reviews
"The outwell oakland xl tent is great, easy to build, very big living area, two good size bedrooms...", Colin, UK