Add to wishlist
Added to wishlist
Removed from wishlist
0
Add to compare
SKU:

Frontier Stove
View more reviews for Anevay products
The Frontier Stove can be just the solution for keeping your canvas tent nice and toasty during the cooler months.
The Frontier Stove can be just the solution for keeping your canvas tent nice and toasty during the cooler months. 
If you have a fire retardant canvas or poly-cotton tent that can be adapted to take a flue, then getting a wood burning stove will make your tent cosy. Really cosy.
The problem with wood-burning stoves for camping, is that wood-burning stoves tend to be very heavy.
This is where the Frontier Stove comes to the rescue.
As the picture shows, the Frontier Stove folds up and even comes with a carry handle. The flue comes in sections and can be kept inside the stove when transporting.
This will provide plenty of heat in your tent, though obviously make sure kids don't touch it when hot.
If you have a plastic based groundsheet, you'll need to roll it back out of the way so that the wood burner is over bare ground, otherwise it could melt it. Yes, they do get that hot, which is why you don't use them in a polyester tent. Also, you don't want stray embers burning through your groundsheet when you open the stove door.
If you don't place the Frontier Stove directly on the ground then you should place it on a fire retardant mat. You can get one here.
Not just for heating – Cooking and Water Too
The Frontier Stove also comes with flat top and a hotplate. This is great for putting a cast iron kettle and skillet.
Now a kettle on the stove make take longer to boil than a gas burning stove or electric kettle, but since you're heating your tent you might as well use the heat.
You can also get an add-on water heater that sits on the back of the stove and wraps around the flue. The water heater comes with a tap. Again, it won't heat water from cold as quick as gas or electric powered kettle, but if you have the stove on it will mean you have a hot water tank and tap in your tent! 😉
A cast iron skillet or griddle will get hot enough to cook. It's just a single hot plate so not a lot of space to cook lots for the family, but warming and toasting something before bed will be luxury on a cold night.
If you want to see some cooking with the Frontier Stove, have a read of this post by Badger Bushcraft.
Tips for using the Frontier Stove
As with all wood-burning stoves you need to control the air flow to get a good burn, or for a slow burn but lasts longer. This may require a bit of experimentation with the damper until you get the temperature and burn rate you want.
Different wood burns at different rates. Kiln dried and hard wood will last longer than soft or green wood if you want the Frontier Stove on a slow burn and last longer. Note that it is recommended that the stove is extinguished prior to going to sleep (you should be in your warm sleeping bag then anyway), but the body of the stove, flue, and water tank (if fitted) will still give off some heat.
If you are placing the stove directly on the ground but worried about the stove being knocked over, then the stove does have some holes in the foot of each leg, so if you have any tent pegs thin enough you could anchor it to the ground.
Fitting a Frontier Stove in your tent
You can buy DIY flashing kits to fit flues, such as the one here.
It is advised to fit the Frontier Stove away from the entrance door (to avoid people walking into it).
If you are doing this yourself, you will be making a hole in your canvas tent.
Full instructions for for fitting the Frontier Stove Flashing Kit can be downloaded from the link below.
Frontier Stove Owner Modifications
The Frontier Stove is great and their owners love them, adapting the stove to make it even better.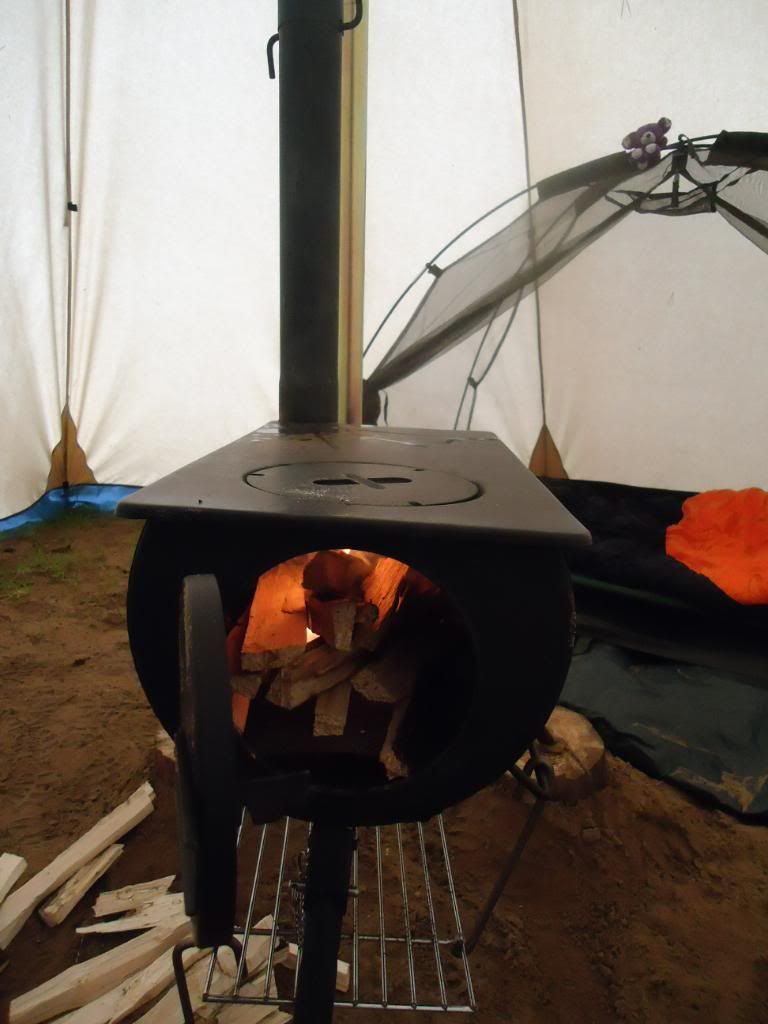 This picture from George Aitchison shows the Frontier Stove in his tent with a rack that he made to go underneath. If you read the Badger Bushcraft article above, you'll see that this is good for making bread and pizza dough rise.
Here's some other modifications:
Place a fire grate inside, which helps keep airflow good when it starts to fill with ash.
Fit a wizard hat over the chimney to prevent rain coming down (and help prevent wind blowing smoke back into the stove)
Get or make a toasting rack
---
Frontier Stove Downloads
You can download the full dimensions here.
Price Guide:
Frontier Stove – A portable wood-burning stove for camping
---
Review Author
Show full profile
Father to 3 kids, who loves getting out and about (hiking, running, camping, cycling, canoeing...) Co-founded Get Out With The Kids to help other parents enjoy the outdoors with their family.
Get the Family Camping Planner
Enter your name and email address and we'll send you the family camping planner.
Frontier Stove – A portable wood-burning stove for camping