DEO for hiking boots and shoes
A handy spray to remove any smells from your hiking and walking boots or shoes.
Review Score
This was a hands-on product review. The product was supplied to us to test and conduct the review.
Our Review
Hiking boots and shoes can take a lot of punishment. Not just from rugged terrain and gravel paths, but also muddy puddles and streams. Water getting into your boots and not drying out can make them have a little bit of a whiff as the bacteria grows. Throw in some sweaty feet, and you have a recipe for some pongy shoes!
There are a few shoe deodorisers out there, but Storm is a company that specialises in providing cleaning and care products for outdoor gear. So I requested a sample of their Storm Deo to review.
Here's what they say:
Hypoallergenic when dry
Reduces bacteria and odour levels
Ideal for footwear, helmets, gloves
I tested these on my hiking shoes (which I wear everywhere!) as well as some running shoes that have taken a lot of punishment on the trails, including plenty of muddy puddles.
Although these shoes weren't that smelly, there was a 'used' smell to them.
A few squirts of the spray and they were noticeably better.
You do have to leave the Storm Deo to dry out before using the shoe. You also need to make sure you squirt it into all the places. The sample I had was the smaller size, so I was quite economical with it.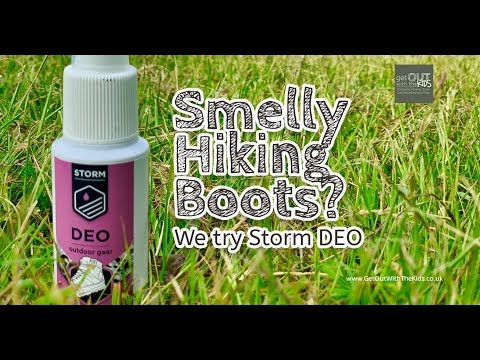 After a few weeks, the smell of the Deo had disappeared. There was a 'used' smell, but not as noticeable. So despite only putting a few squirts in, it does appear to help keep the smells away, but I would recommend using more than just a few squirts and treat your shoes by making sure you cover all of them inside, so getting the much larger 300 ml might be better.