Walking from Bracelands to Symonds Yat
Hiking Trail
Difficulty:  Easy
If you are staying at the Bracelands Campsite in the Forest of Dean, here's a nice circular walk that will take you to Symonds Yat and back.
Our Review
If you stay at the Camping in the Forest Bracelands site, you can walk from the campsite to Symonds Yat.
This is a fairly easy route, though be prepared for some climbing when you get to Symonds Yat...and it's not a pushchair-friendly climb.
We set off on a wet Autumn day, as seen in our short video below.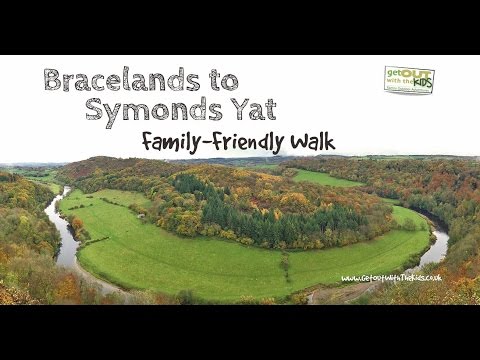 Route Instructions
Leave the Bracelands campsite from the gate at the bottom of the hill on the entrance side of the site.
Follow that sign that says 'To River' down the hill, then turn right at the crossroads. Continue along that path until you hit the River Wye, then turn right.
Continue walking along the river-side path, and you will eventually get to a pub hotel that serves meals.
To the left of this is a small path that leads up to Symonds Yat. Continue climbing up this path, and you will eventually get to the viewing area.
To return to Bracelands campsite, you can take a different route.
Walk past the Log Cabin Cafe (they do some good food here, too) and continue along the path to the car parks.
When you reach the first car park, walk to the road and turn right. This will take you away from the road and past a small cottage with farm machinery.
Continue on this path, following the yellow signs. You will eventually come out near Bracelands Forest Holidays. Simply turn right and walk up the lane to Camping in the Forest Bracelands campsite.
Listen out for Wild Boar. They are around.
Though we've not seen them yet near the Bracelands campsite, we have heard them when cycling through the Forest of Dean.
See Also