Family Cycling in the Forest of Dean
If you visit the Forest of Dean, here's a great family cycle route.
Our Review
Having stayed at the Bracelands Campsite before, I knew there were plenty of trails around. However, a friend recommended I check out the trails and bikes available from 'Pedal a Bike Away' in the Forest of Dean.
Situated in the heart of the forest are a series of cycle trails, from leisurely family cycling to mountain biking and downhill riding.
Watch our video below to get a quick idea of the route.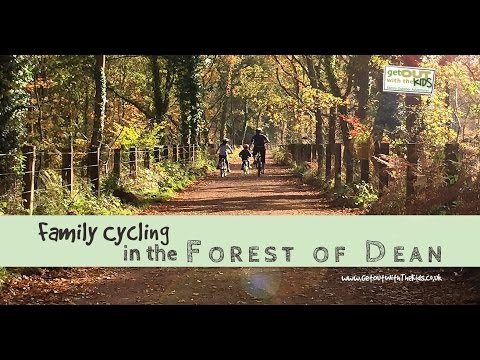 Bike Hire
We visited whilst we were touring the area in a motorhome, and so we brought a few bikes with us—all except the adult bikes for Mum and Dad.
Fortunately, you can hire mountain bikes at Pedal a Bike Away. An adult trail bike was £14.50 for 3 hours when we visited.
The Family Cycle Trail
There are some great family cycle trails up and down the country, and I'm pleased to report this is one of them.
It's fairly flat, apart from one small easy downhill section, built on an old railway line that served the local mines that used to operate in the area.
The full family tail is just over 19km, and our youngest, who was on a small 'trainer' bike, made it all the way around.
Blue Mountain Bike Routes
Just like ski runs the mountain bike routes are colour coded to signify how difficult they are.
As you cycle along the family trail there are little blue runs every now and then that shoot off the family trail and re-join it. This is a really great idea as those who want to do a little more than the leisurely trail, can get their kicks along the way 😉
Blue runs don't require a lot of technical skill. They give the rider different terrains, bumps, and banked turns.  Enough to put a smile on your face.
My daughter and I did all the blue runs off the family trail, but in the end, we all did a blue run. Even our youngest, on his little bike, who got tired of his dad and sister having all the fun, decided to give one a go.
Pedal a Bike Away Shop and Cafe
If you need it, there's also a shop, cafe, toilets, and showers.
As I mentioned, we arrived in a motorhome. This is the first time we had arrived at such a place in a motorhome, and it was great to have somewhere warm and dry to get changed in, as well as the ability to pop the kettle on 😉
Kids Mountain Bike Club
One thing we did see advertised at Pedal a Bike Away is their 'Little Fodders' Kids Mountain Bike Club.
We couldn't try this, but if you are in the area, it might be worth checking out.
Parking for a Motorhome
As mentioned above, we arrived by motorhome.
If you are also planning to arrive by motorhome, follow the signs for the overflow car park when you arrive. That's where I found suitable parking.
Facilities
 Toilets
 Parking
 Cafe
 Cycle Hire