Doussard to Annecy - Tour de Lac cycle route
Cycling Trail
36 km long.
Difficulty:  Easy
Along the shores of Lake Annecy, between the towns of Doussard and Annecy, is a traffic free cycle route that follows the path of an old railway line. With only a handful of places where it crosses roads, this flat route is ideal for taking kids on bikes to explore along the lake shore.
Our Review
We did this cycle route while staying at Camping La Ravoire, which is right next to the cycle path (and somewhere you can hire bikes if you didn't bring any of your own).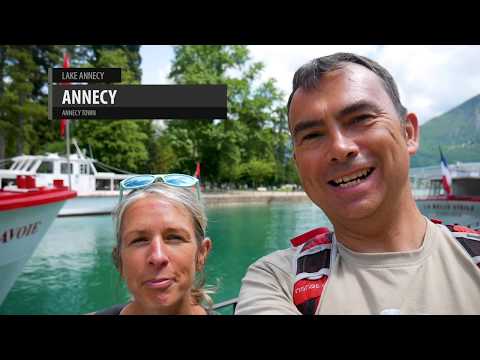 The route mainly follows the shore of Lake Annecy. This is a stunningly beautiful lake, with blue waters that almost glow, and surrounded by mountains and small Alpine villages and towns. There was still snow on the peaks when we visited in May.
So although the cycle route runs between Doussard and Annecy, there are plenty of places to stop off, including some bathing beaches.
Since the cycle track runs along the route of an old train line, it is flat with very few inclines. With only a few places where it crosses a road, this is a great cycle route to take the kids.  Only, don't expect it to be the only ones using it: it was more like a cycle motorway at times, with both families and tourists to semi-pro cyclists cycling up and down.
There are a few cafe and toilet stops along the route, as well as facilities in the larger towns of Annecy or Doussard, or the smaller picturesque town of Duignt.
Duignt has a chateau that sticks out into the lake and has a small town square with shops where you can get ice creams and drinks. Duignt is also where you cycle through the old railway tunnel.
Further along, the route, as you head towards Annecy, are other places to stop, including a bathing beach area, more cafes, and a shore-side path you can walk along and take in the sunshine.
You also pass through the countryside, and past some very expensive houses that overlook the lake.
As you get closer to the town of Annecy, the cycle route enters an area that is more built-up. Eventually, the cycle route ends up at the marina and where the lake's boat tours run. There are plenty of places to lock your bikes by the ferries.
The old town of Annecy has a touch of Venice about it, with lots of ancient streets and waterways, and is well worth exploring.
The cycle path does continue through Annecy, though this is much more built up with many more road crossings.
By 2020 they are aiming to have the 'Tour de Lac' as a complete traffic-free circuit around the lake. For now, if you wish to cycle on the other side of the lake, there are still large sections of busy roads that you must cycle along.
Verdict
We really liked this cycle route. It was well maintained and very family friendly. It was good that we could get easily get to places along this side of the lake without having to take the car.