A walk up Caer Caradoc - The 'Back Way'
This is a walk-up Caer Caradoc hill, up to the ancient hill fort that overlooks the Church Stretton Valley and the Long Mynd hills. However, instead of starting the walk on the Church Stretton side of the hill, this route starts at Willstone on the western side of the hill.
Our Review
On a sunny spring day, in March 2020 during the COVID-19 virus social isolation, we got out for some much needed fresh air after a long week inside at home.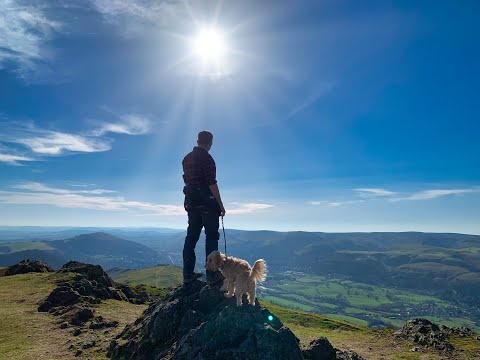 There is a small parking area at the village Willstone, which is just up the lane from Cardington. As you drive through Cardington, you'll see a sign to Caer Caradoc Hill.
If it's a good day, expect to find it hard to find a parking space. However, if your car is up to it, drive up the lane a little way further, and there's another small parking area.
Continue walking up the lane and you'll reach a gate with some info about Caer Caradoc.
You then walk further and you'll find styles on your right. Don't go over the first styles you see. Carry on a little further and you'll see the track in the field, which follows up the side of Caer Caradoc.
To me, this looks like an ancient cartway that led up to the hill fort.
It's not a long walk, but it does get steep.
Be prepared for wind at the top of the hill, and the weather can change on you.