YHA Oxford is close to the city centre and conveniently located next to the railway station. Private en-suite rooms are available, which are ideal for families.
Our Review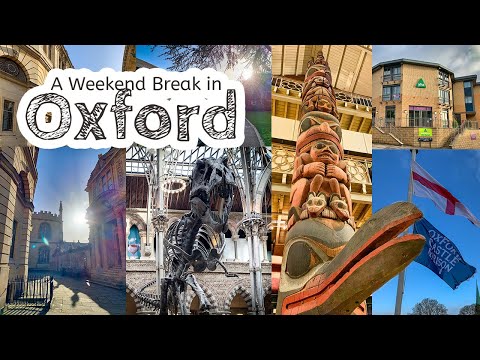 Our previous stays with YHA have been in more rural locations than Oxford (see our stay at YHA Hartington Hall and YHA Haworth), in grand old buildings and countryside right on the doorstep. So a stay in a YHA city location is a bit different.
We're not always in the countryside. Last year we did a short London break to the Natural History Museum and York in the October half-term, a city we've been back to a few times.
Full Steam Ahead
Since YHA Oxford is right next to the railway station we decided to take the train, which is not something we can always do at more rural locations.
In theory, we should all be taking the train more to save the environment. Unfortunately, despite having a Family Rail Card, the train tickets still cost us more than taking the car.
However, as we were travelling down Friday night after work at the end of January, taking the train was a nice break from driving.
First Impressions
YHA Oxford is a new, purpose-built, building. Walking into reception was more like a modern hotel.
The reception area also serves as the coffee shop and bar.
Self-Catering Facilities
Of course, eating out as a family all the time can soon become expensive. A big benefit of YHA is that you typically have self-catering facilities.
YHA Oxford has a good size kitchen with multiple appliances and sinks. Accompanying the kitchen is a good-sized dining hall.
If you don't always want to cook, a full-English and continental breakfast is available. This was £6.95 per person when we visited, though it is just £3.50 for under 10's.
There's also a laundry room too, lounge, and library.
The Family Room
Hostels may bring up visions of dorm rooms. There are of course dorm rooms at YHA Oxford, providing very affordable accommodation in the city centre.
However, as a family, you won't need to be split up into shared dorm rooms as YHA Oxford has private en-suite family rooms.
Our room could sleep 5, with one double and three bunk beds. It also had an ensuite with a shower. And the shower was really good too :-)
Refurbishments
YHA Oxford is undergoing refurbishments, with a third of the rooms already redecorated when we visited. Plus, new furniture, carpets, and bathrooms are about to arrive.
Unfortunately, our room had not yet been refurbished, but here's a picture of a private 6-person dorm room that has just been repainted.
Things to See
We had visited Oxford before but had not done any of the attractions in the city, instead, driving to just outside the city to visit Blenheim Palace.
There's plenty of sights to see in the city, which is of course, dominated by the world famous Oxford University.
This time we visited a couple of places that we highly recommend.
Oxford Castle and Prison
Oxford Castle and Prison is about a 10-minute walk from YHA Oxford.
We booked ourselves onto their award-winning tour. It was great!
Tap here to find out more about the Oxford Castle and Prison.
Oxford University Museum of Natural History and the Pitt Rivers Museum
The Oxford University Museum of Natural History is about 20 minutes walk from YHA Oxford. The Pitt Rivers Museum is connected to the Museum of Natural History, and so you can visit both at the same time.
Neither have an admission fee, just a small donation is asked for.
Tap here to learn more about visiting these museums.
Our Tips for Staying at YHA Oxford
There are a few things to note when staying at YHA.
Check the time reception is open when planning your travel. YHA Oxford is a 24-hour reception.
There's no tea or coffee making facilities in the bedrooms. Bring some flasks and make a brew up in the kitchen.
Bring some water bottles. There was a water bottle refilling station in the YHA Oxford reception. This will save you a lot of money on drinks.
YHA provides storage lockers, but you need to bring your own padlock. This is not so much of an issue if you are staying in a private room. These lockers are more for shared accommodation, but if you want to store valuables, might want to bring a lock for peace of mind.
Check-out time is typically 10 am. Check if your hostel has a luggage store like YHA Oxford does so that you don't need to travel back as soon as you check out.
Check if towels are included. Bed-linen is but the YHA Oxford website says that you can hire towels at reception. However, we found towels were provided in our private room :-)
How expensive is YHA Oxford for a family?
Looking at the prices for when we visited (Feb 2020), a Private En-Suite Room that sleeps up to 4 people was £39 to £49 per night in the week, though I did see the rate increase to £85 per night to over £100 per night at the weekends during summer.
---
Disclaimer
YHA provided us with free accommodation at YHA Oxford in order to review their new family rooms. They also wanted to check this review before publishing. However, all other costs and expenses to complete this review were paid for by us.
Hostel Details
 Private Rooms
 Ensuite Rooms
Accommodation Amenities
Cot
Bike Storage
Bed Linen Provided
Self Catering Facilities
 Self-Catering Kitchen
 Laundry Facilities
Breakfast Provided?
Breakfast is available as an optional extra.
Facilities
 Toilets
 Accessible
 Cafe
 WiFi
Facilities Details
YHA Oxford is a big hostel with lots of facilities. - Bar & Cafe - 24-hour reception, and luggage store - Self-catering kitchen and dining room - Lounge - Library - Wifi - Private and ensuite rooms Note: dogs are not allowed unless they are assistance dogs.
Entertainment
 Games Room
 TV
 Library
 Lounge
Prices
YHA can typically be a cheaper accommodation option, though prices do increase with demand. Book ahead to secure a good price. Also, check out the YHA offers. You can sometimes get early-bird discounts to save even more.
Check In/Out Details
Check-in Time: 14:00|00:00|0|
Check-out By: 10:00|10:00|0|
On The Map
Address
YHA Oxford
YHA Oxford, Botley Road
Oxfordshire
Oxfordshire
OX2 OAB
England

Longitude: -1.270702
Latitude: 51.752909
Nearby Places Serving Food
YHA Oxford is in the heart of the city, and so there are numerous places to eat.
Get Out With The Kids is an affiliate. This means that this website may earn a few pennies if you purchase via our link. This does not increase the price. The business cannot change reviews.