Stay in a Victorian Gothic Mansion with a sweeping staircase and large glass windows. Family ensuite private rooms are available at YHA Haworth and there are lots for families to do in the area.
Our Review
We popped along to the Pennines in Yorkshire for another family adventure. This time, we went back in time....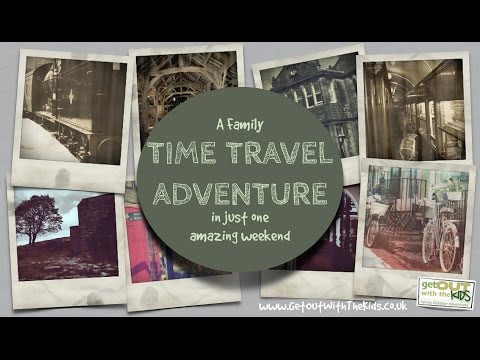 Haworth
We were visiting the old mill town of Haworth.
With its cobbled streets and outdoor cafe's in the sunshine, this was a very pleasant place to visit.
Keighley and Worth Valley Railway
Our first trip back in time was a ride along the Keighley and Worth Valley Railway in a steam train.
We got a family ticket that allowed us to hop on and off all day, and also gave us free entry to the historic railway carriage museum.
The Railway Children was filmed at one of the stations on the railway line (Oakworth Station), and you can hop off and do the Railway Children Walk back to Haworth.
East Riddlesden Hall
We went further back in time with a visit to East Riddlesden Hall.
This was about 20 minutes to half-hour walk from Keighley station on the KWVR.
This is a National Trust property and was a great place to visit. The staff were very informative, and the place had a more homely feel than many stately homes.
The gardens were good too, along with a kids play garden.
Bronte Parsonage Museum
The name 'Haworth' may sound familiar to you. If it does, it may be that you once heard that the Bronte Sisters grew up here.
Their books may have been about love and the struggles and strife of life, but their family story is quite a sad tale in its own right, with their mother dying, their brother dying, and eventually all of the sisters dying, leaving their poor old father to outlive them all.
In Haworth is the Bronte Parsonage Museum, which is the house in which they grew up and wrote their novels.
Even if you aren't a fan of the Bronte literature, the museum is worth visiting for a glimpse back in time.
The Family entrance price wasn't that expensive (£13 for all five of us I think), as we had a discount voucher from the Keighley and Worth Valley Railway.
A hike up to Wuthering Heights (Top Withens)
The Bronte Parsonage backed onto the moors, where the sisters spent a lot of their time and got a lot of inspiration for their story.
You can take a walk from the Parsonage up to the Bronte Falls, Bronte Bridge, and up to an old derelict farmhouse at Top Withens, which is said to he inspiration to the location of Wuthering Heights.
If you did the full walk up to Top Withens it's a good old stroll, but although there are a few steep sections, it isn't too strenuous.
Keep an eye on the weather though as it can get a bit exposed at the top of the moors.
From Top Withens, you can either retrace your steps or take a circular walk back to Haworth.
If your family is into Geocaching, then there's a cache hidden near Top Withens ;-)
Where we Stayed
We weren't camping this weekend but instead staying right in Haworth at the Youth Hostel.
The Youth Hostel was an impressive old house built upon the hill overlooking Haworth.
Although this was an old building, we stayed in our own family room with modern bunk beds, with each bed having its own light and power supply.
You can buy a cooked breakfast (and other meals) to get your family fuelled up before heading off on your day's adventures. That's what we did.
If you'd rather take the self-catering option, the Haworth Youth Hostel has a good-sized kitchen and dining room.
The Youth Hostel staff were very helpful (as we've come to expect of the YHA), and they provided a map showing you how to walk from the Hostel to the KWVR Station, up to the Bronte Parsonage, and onto Top Withens.
We certainly enjoyed a great stay at the YHA Haworth, and it definitely gets the thumbs up from us as a great base for a family break in this part of Yorkshire.
Hostel Details
 Private Rooms
 Ensuite Rooms
Accommodation Amenities
Bike Storage
Bed Linen Provided
Self Catering Facilities
 Self-Catering Kitchen
 Laundry Facilities
Breakfast Provided?
Breakfast is available as an optional extra.
Facilities
 Parking
 Accessible
 Cafe
 WiFi
Facilities Details
Note that towels are not provided with the room, but can be hired from reception. Breakfast is served between 7:30 and 9 am.
Check In/Out Details
Check-in Time: 15:00|23:00|0|
Check-out By: 10:00|10:00|0|
On The Map
Directions
From Haworth centre, take the B6142 towards Keighley for 0.75 miles. From Keighley, travel 3 miles south on the A629 then take the A6033 and B6142. The hostel, on Longlands Drive, is almost opposite the Bronte Hotel.
Address
YHA Haworth
YHA Haworth, Longlands Drive, Lees Lane, Haworth, Keighley
Haworth
West Yorkshire
BD22 8RT
England

Longitude: -1.941968
Latitude: 53.836915
Get Out With The Kids is an affiliate. This means that this website may earn a few pennies if you purchase via our link. This does not increase the price. The business cannot change reviews.