Stay in a 17th Century manor house within the Peak District of Derbyshire, with lots of things for families to do right on the doorstep. YHA Hartington Hall has private en-suite family rooms.
Our Review
On a Friday night, after everyone was home from schools and work, we headed off for another weekend adventure.
our destination was an old manor house built in 1611
As we neared our destination, it got very dark as we travelled up and down narrow lanes flanked by dry stone walls.
We were in the Peak District, and our destination was an old manor house built in 1611, called Hartington Hall.
An old house must have a ghost story?
There must be some universal law that means every old house has a ghost story or two, and Hartington Hall was no exception.
It is said the hall is haunted by a woman that was hung in the village square for being a witch. Spooky!
Some of our kids were a little apprehensive about spending the weekend in a haunted old building, but it all added to the excitement of our latest weekend adventure.
As we approached the building in the dark, we peered inside its old leaded window...
Inside Hartington Hall
...and were pleasantly delighted!
On the other side of the window that we peered through was a cosy dining room and bar. So far, no ghosts or witches in sight!
So far, no ghosts or witches in sight!
Like many other old buildings that you can stay in, Hartington Hall is a youth hostel.
If you've not been to a youth hostel recently, you might imagine that they're places full of large dormitories, shared bathrooms, and lots of Scouts.
Certainly, I remember youth hostels from when I was younger, with rooms crammed full of bunk beds that I'm sure were leftover from WW2 (perhaps I'm starting to show my age!!).
While there's still group accommodation, the YHA has modernised considerably.
Many YHA places have family rooms and many with ensuite facilities.
Yes, there's still bunk beds, but modern ones ;-) Even double beds for Mum and Dad.
Staying at Hartington Hall
Hartington Hall wasn't spooky at all. The place had a very friendly atmosphere.
There were people of all ages. Yes, don't get confused by 'Youth' in Youth Hostel. YHA hostels are for everyone, including families.
YHA hostels are for everyone, including families
In fact, families are particularly well catered for, with a games room, playground, animals, and lots of space for kids to run around safely.
Here are some of the highlights:
We could all share a family room.
There were an en-suite toilet and shower.
We got to stay in an old historic building.
Self-catering and laundry facilities.
Restaurant for breakfast and dinner.
Play areas for the kids, and plenty of safe places for them to run around.
Goats and rabbits. Yes, goats, not ghosts.
Very helpful staff.
Beautiful countryside and lots to see nearby.
Bed linen was provided. All we needed to bring were towels.
Exploring the Peak District
After a good breakfast inside us, and exploring the old village (including where the witch met her demise), we headed off to explore more of the Peak District.
Hartington Hall is in the southern part of the Peak District and makes an excellent base for exploring the area.
We've stayed in this area before and had a great time doing the Monsal Bike Trail.
This time we went off to explore the Dovedale valley.
The Peak District has a lot of different scenery, and in Dovedale Valley, you see quite a lot of it.
We were there all day, exploring caves, crossing the river, and climbing a cloud! Actually, it was a very sunny day, and the only cloud was Thorpe Cloud, a large and distinctive hill that is next to the stepping stones across the River Dove.
It was nice to return to Hartington Hall for a good meal and some rest
We were exhausted after our day hiking. It was nice to go back to Hartington Hall for a good meal and some rest.
Escaping the rain - Underground!
The next day the weather had completely changed and started to rain - heavily.
We decided the best thing to do would be to go underground. So we visited Poole's Cavern in Buxton.
Poole's Cavern is quite an amazing and surprising thing to find in a carpark in Buxton.
The cave goes quite a way underground and is full of stalagmites and stalactites.
Well worth a visit.
---
Hartington Hall and the Peak District Video
Watch our video and see more of Hartington Hall and our adventures around the area in the Peak District.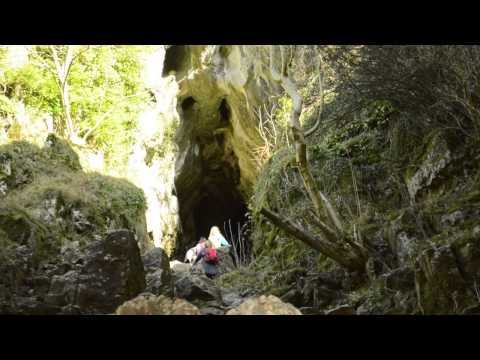 A Fantastic Weekend
This was a fantastic weekend. It's great to get away without having to wait for the school holidays.
The kids really enjoyed it and were asking when we would be going again on the journey home.
Hostel Details
 Private Rooms
 Ensuite Rooms
Accommodation Amenities
Bike Storage
Bed Linen Provided
Self Catering Facilities
 Self-Catering Kitchen
 Laundry Facilities
Breakfast Provided?
Breakfast is available as an optional extra.
Facilities
 Parking
 Toilets
 Accessible
 Cafe
 WiFi
Facilities Details
Towels and toiletries are not provided with the room but can be purchased from reception. Free wifi is available in social spaces. Breakfast is served from 7:30 - 9 am.
On The Map
Address
YHA Hartington Hall
YHA Hartington Hall, Hall Bank, Buxton, Hartington
Derbyshire
Derbyshire
SK17 0AT
England

Longitude: -1.804548
Latitude: 53.140161
Get Out With The Kids is an affiliate. This means that this website may earn a few pennies if you purchase via our link. This does not increase the price. The business cannot change reviews.