Tents
  Caravans
  Small Campervans
  Motorhomes
Deep in the North Herefordshire countryside is a gem of a small campsite known as The Buzzards. There are also cottages available.
Our Review
We've just got back from a fantastic short break at The Buzzards in North Herefordshire, on a busy May bank holiday weekend. This is a hidden gem of a campsite. Whilst other campsites were getting booked up, we more or less had the place to ourselves.
Now, this is a small back to basics campsite. Facilities are limited, there's no EHU, and there's only room for a small number of pitches.
If you don't need all the mod-cons, this is a great campsite, with fantastic views to wake up to.
We were greeted by Elaine, who was very friendly and helpful, and showed us where we could choose to pitch our tent.
The Pitches
In the main camping field, there's an area for tents and a firmer area for campervans or caravans.
Although in a tent, we pitched in the campervan field as the tent field was still a little boggy.
There is also a secluded pitch up near the main house.
Campfires & BBQs
There are a couple of places where campfires are allowed on the ground, and you'll need to be shown where these are.
BBQs must be raised off the grass.
Here's a little video we put together when enjoying the campfire at The Buzzards campsite.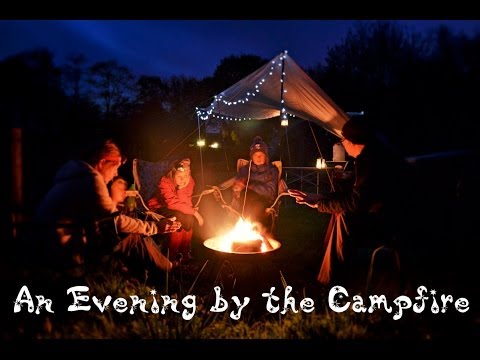 Facilities
There is a water point in the field, but when we visited no wash-up facilities (though some are planned).
There is a single toilet with shower up at the farmhouse (you don't have to go through the farmhouse to access, but go through a door on the side of the building). The shower uses the house's hot water and is very good, but the sink has no hot water.
Remember this is a small back-to-basics campsite. If you need somewhere with lots of facilities, then this is not for you.
We used our Outwell Collaps washing bowl (see here), with warm water from our kettle.
Dogs at The Buzzards
Well behaved dogs are allowed at The Buzzards but must be exercised in the small lane that runs next to the campsite (very close and quick to get to). The Buzzards is a smallholding and they don't want the dogs exercised on their land.
At the campsite and in the area
The campsite boasts a few interesting walks. It was a little overgrown when we visited, which added to the charm of the place, and made it more of an adventure.
On the walk, we found an old 1960's tractor in a shipping container, a lake, and very large badger set with a hide to watch them.
The area boasts lots of walks and things to see, and Elaine provided us with leaflets, walking guides, and an O/S map. Unfortunately in three days we just didn't have enough time to see everything.
One of our favourite National Trust places to visit, Croft Castle, is just down the road.
There's very little light pollution at The Buzzards, so if you are lucky enough for some clear skies at night, you'll be treated to lots of stars that you wouldn't normally see in towns and cities.
Self Catering
If camping is not your thing, The Buzzards also have a number of self-catering cottages.
Verdict
We really enjoyed our stay at The Buzzards campsite. I'm sure some part of that was down to the fact that we had the place more or less to ourselves, but this being a small campsite, you may also be lucky to end up with almost a private campsite.
We shall definitely be returning, that's for sure.
Pitch Types
  Grass (no electric)
Grass with Electric
Hardstanding with Electric
Fully Serviced
Campsite Facilities
 Showers
 Campfires Allowed
Facilities
 Parking
 Toilets
 Dogs Welcome
On The Map
Directions
The postcode for your sat nav is HR6 9QE, but this just gets you to the area. Look out for the wooden signs that point you to The Buzzards. We've tried to show the exact location on the map below. Note that there are some narrow lanes that your Sat Nav will take you down, but if you approach from Mortimer's Cross the road is quite good and the campsite quick and easy to get to. (Take Hereford Lane off the A4110 after Mortimer's Cross, and then take the next right).
Address
The Buzzards Campsite
The Buzzards Campsite
Herefordshire
Herefordshire
HR6 9QE
England

Longitude: -2.849943
Latitude: 52.26184