Tents
  Caravans
  Small Campervans
  Motorhomes
The Cannock Chase campsite is run by the Camping and Caravanning Club. It's set in Cannock Chase with the forest directly accessible from the campsite.
Our Review
With the COVID-19 lockdown lifting for campsites on 12 April 2021, we headed off to the Cannock Chase campsite.
Of course, shared facilities were not allowed to be opened, so we took our caravan.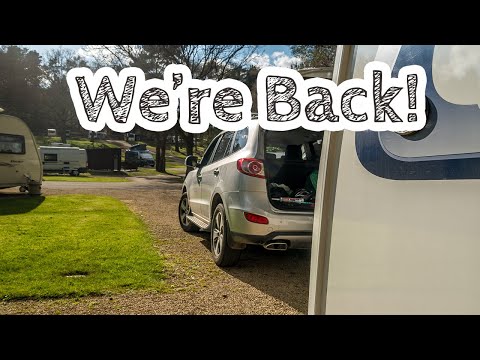 The campsite sits right next to the forest. We took our bikes so that we co do the trails while we were there.  You can access the forest directly from the campsite through a gate called 'dog walk'.  It's not an enclosed dog walk but access to the entire Cannock Chase forest. That's one big dog walk! ;-)
If you plan to walk to the Cannock Chase visitor's centre, expect it to take between 40 and 60 minutes.  We found our subscription to the OSMaps app handy for navigating the trails.
We did the full 20 km Sherbrook Trail.
The pitch at our campsite was lovely, level, and well maintained. There's a good play park for the kids too.
The only downside is if you need to be connected to the outside world.  The forest area where the campsite is doesn't receive a very good signal when we visited.  And while there is a free club-WiFi, it wasn't working too well, and its signal was weak at our pitch.
However, it was nice to switch off for a couple of nights and enjoy being away for the first trip of the year after the winter lockdown :-)
Pitch Types
  Grass (no electric)
   Grass with Electric
   Hardstanding with Electric
Fully Serviced
Campsite Facilities
 Showers
 Wash-up
 Electric Hook-up
 Chemical Disposal
 Shop
 Laundrette
Facilities
 Parking
 Toilets
 Accessible
 Dogs Welcome
 Play Park
 WiFi
On The Map
Directions
If you are towing or arriving in a motorhome, please download the safe approach instructions from the Club's website.
Address
Cannock Chase Campsite
Cannock Chase Camping and Caravanning Club Site, Old Youth Hostel, Wandon
Staffordshire
Staffordshire
WS15 1QW
England

Longitude: -1.944229
Latitude: 52.727329