Tents
  Caravans
  Small Campervans
  Motorhomes
Nestled in the Forest of Dean is the Camping-in-the-Forest campsite of Bracelands. The campsite is surrounded by woodland but has loads of space, with 520 pitches available for tents, caravans, and motorhomes. If you don't want to camp, then the site also provides Camping Pods and Glamping in a Safari ReadyCamp tent.
Our Review
I had heard about Camping in the Forest and the Bracelands campsite but had never been. I was expecting to be among the trees actually in the forest, but instead, Bracelands Campsite is a huge clearing.
That's not to say that the campsite wasn't good, far from it, nor that there wasn't a forest, in fact, there was a huge forest: The Forest of Dean, which is an Outstanding Area of Natural Beauty.
in the middle of a huge wooded landscape
Bracelands is in the middle of a huge wooded landscape.
The campsite itself is quite large with a number of hard standing pitches and plenty of grass pitches, both with EHU and without.
Being such a large site there are a number of toilet and shower blocks conveniently placed around the site.
Pitches can be slightly sloping. You aren't allocated a pitch number so you can look around and find one that suits you.
Where you pitch your tent is marked out to keep a safe distance between tents.
Campfires are not allowed, but BBQs are, as long as they are raised off the ground.
Showers are free.
made it easy for young kids
These are operated by a simple 'touch' button, which made it easy for young kids to operate (which makes a nice change!).
There was also a family toilet and shower room, making it a lot easier if you have young kids.
Oh, did I mention you are in the middle of the Forest of Dean?
wild boars that roam the forest
Around the campsite are gates where you can access the forest. And on each gate is a warning about wild boars that roam the forest!
A Walk to Symonds Yat Rock
A must-do is a walk from the campsite to Symonds Yat Rock.
Symonds Yat Rock towers above the River Wye, standing tall over a beautiful landscape.
the fastest animal on the planet
It's also home to Peregrine Falcons, the fastest animal on the planet.
On our walk to Symonds Yat Rock, we heard the cries of a bird of prey above us. We looked up and saw a Peregrine Falcon go into its super-fast dive.
saw a Peregrine Falcon go into its super-fast dive
It went from flying gracefully to dive-bombing like it had rocket engines.
In the end, one Peregrine Falcon came home with us ;-)
The walk from the campsite takes a while but is not difficult or particularly hilly, and is well signposted.
There were information panels about the different butterflies that visit the forest.
We named this the 'butterfly bush'
We found a bush full of different butterflies. We named this the 'butterfly bush'.
When you get to Symonds Yat Rock there's a Forestry Commission cafe.
A good place to fuel up after your walk :-)
We've now down the walk twice. Once directly there and back; another on a circular route by the River Wye.
Click here for details of the circular walk to Symonds Yat.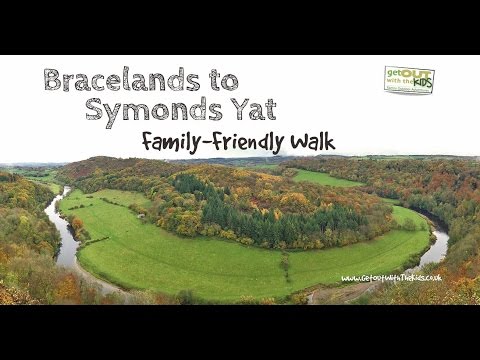 Forest Holidays at Bracelands
If camping is not your thing, there's also Forest Holidays at Bracelands where you can stay in a wooden lodge instead.
These looked very nice.
At Forest Holidays is a larger shop and a cafe.
This is just a short walk from the entrance to Bracelands Camping in the Forest. So if you've forgotten something or want a quick bite to eat, this is within easy reach.
You can even park your dog :-)
a thoroughly enjoyable weekend camping
We had a thoroughly enjoyable weekend camping at Bracelands. It gets the thumbs up from us and is on the list for a return visit.
Pitch Types
  Grass (no electric)
   Grass with Electric
   Hardstanding with Electric
Fully Serviced
Campsite Facilities
 Showers
 Wash-up
 Electric Hook-up
 Chemical Disposal
 Laundrette
On The Map
Directions
Please be aware that Sat Nav is likely to give you a route that involves travelling to the campsite via Symonds Yat. Roads in this area are unsuitable for large vehicles, so please do not follow this route if you are towing or in a motorhome.
Address
Bracelands Campsite
Bracelands Campsite, Forest of Dean, Bracelands Drive, Coleford
Braceland
Gloucestershire
GL16 7NP
England

Longitude: -2.63958
Latitude: 51.814548