Puzzlewood is a magical forest, which you may have seen in Films and TV.
Our Review
You may never have heard of Puzzlewood before, but chances are you've seen it.
As you approach, it's quite an unassuming place: a dirt car park and a small farm petting zoo.
But walk back further into the woods, and you are transported to another world with lush green undergrowth and bridges made of branches.
It feels like some magical kingdom, an enchanted forest, a bygone age, and even a little alien.
And that's why you may have seen it before, as it's a very popular filming location for TV and Films.
Walking around Puzzlewood
We've visited Puzzlewood twice now, and both times were muddy. Our recent visit especially so.
Puzzlewood appears to have its microclimate in the forest. It's almost like a rainforest where everything is moist and wet, so welly boots are advisable.
All that moisture means that the place is covered in moss and ferns.
Semi-Natural
It's not just a woodland walk. There are cliffs and small canyons.
There are many trails to follow, some going up and over and some below.
Historically the landscape at Puzzlewood used to be a quarry, which explains the cliffs and passageways. Over time, nature reclaimed the landscape to create this other-worldly place.
Due to the woodland and rocky landscape, Puzzlewood is not a place to take a pushchair.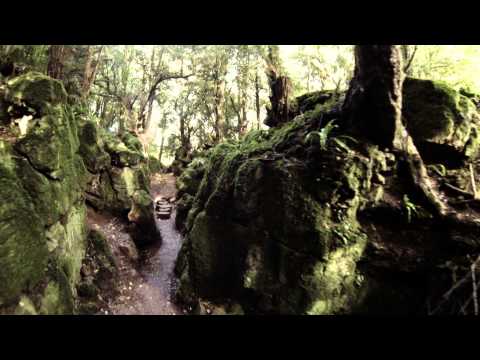 TV and Film at Puzzlewood
BBC's Merlin has filmed here several times, and the bridge will be familiar to fans of the programme.
BBC's Doctor Who has also filmed here (don't blink!).
Star Wars 'Force Awakens' scenes filmed at Puzzlewood
Unlike the original Star Wars film, where forest scenes in Return of the Jedi were shot among the magnificent giant redwoods of Northern California, the new Star Wars Episode VII has gone for the mystical appearance of Puzzlewood.
More photos can be found here.
You can also watch a BBC news video here on the filming of The Force Awakens at Puzzlewood.
On The Map
Address
Puzzlewood
Coleford
Gloucestershire
GL16 8QB
England

Longitude: -2.610503
Latitude: 51.780001