Holkham Hall is a historic Treasure House, right next to the coast, in Norfolk.
Our Review
Holkham Hall is another impressive Treasure House we visited while doing the #5CChallenge.
It sits just off the Norfolk Coast. We visited while staying at the Camping and Caravanning Club Site that is within the grounds of another impressive stately home, this time belonging to the Queen: Sandringham.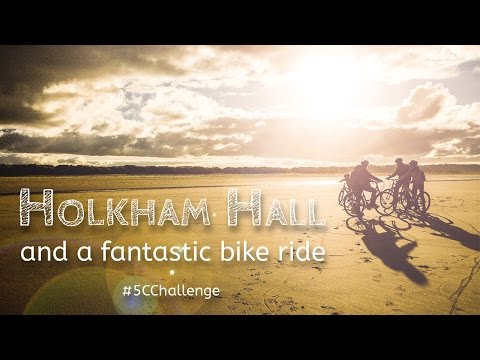 Holkham Hall
The Coke family still lives in the Holkham 'House', and so despite the usual impressive stately home features, such as grand entrances, staterooms with large paintings, and statues everywhere, there was a touch of homeliness to some of the rooms with typical family photos and a touch of a more modern feel.
Mind you, Thomas Coke is the Earl of Leceister, and so it's not your usual family home!
Holkham Gardens
Holkham House is set in an impressively landscaped grounds, with deer roaming freely.
When we visited it was the end of October, and so the stags were rutting.
A little way from the house is the Walled Garden. As we were visiting in Autumn, the walled garden was impressive but not at its best, as you would expect for that time of the year.
Buggy Ride
The grounds offer good walks to stretch the legs, especially if you walking from the house to the walled garden.
If this is a bit far for you, or you are running short on time to see everything (as we were), then you can hop onto one of the buggies that carry people around the grounds.
Sitting on the back of the buggy was great fun.
Refreshments and Field to Fork
When we visited they had a farming exhibition called Field to Fork, which shows the journey of food from the fields to our plates, both then and now.
There's also a great cafe there providing refreshments.
Bike Hire
Another way to get around the Holkham estate is to hire bikes.
They have adult bikes, child bikes, bikes with tagalongs, and bikes with child seats. Helmets are provided too, and the staff very helpful with route suggestions.
We all hired bikes and pedalled off to Holkham Beach.
Holkham Beach
Just down from Holkham House is Holkham Beach. An impressive vast expanse of sand dotted with sand dunes. At least it is when the tide is out.
Although the sand was a bit too soft for bikes in a few places, it was mainly firm. It was great fun paddling along the shoreline and not something we were expecting to do at a Treasure House.
Facilities
 Parking
 Toilets
 Pushchair Friendly
 Accessible
 Cafe
On The Map
Directions
Use the postcode NR23 1RH for your satnav.
Address
Holkham Hall
Holkham Hall, Wells-next-the-Sea
Norfolk
Norfolk
NR23 1AB
England

Longitude: 0.803677
Latitude: 52.949851