Chatsworth House, Gardens, Farmyard, and Playground
Chatsworth House is an impressive stately home in the Derbyshire Dales, a few miles north-east of Bakewell.
Our Review
As part of our on-going #5CChallenge, we visited the Treasure House 'Chatsworth' in Derbyshire, while staying at the Bakewell campsite.
Chatsworth is set in an impressive Capability Brown landscape that has the house nestled in a valley.
I say 'house', but it's really a huge palace, with gold-lined windows.
When we visited the parking cost £4.
Inside Chatsworth House
Inside Chatsworth House is just as impressive as outside. We felt it was a little more homely than Castle Howard, but it was still built to impress, with massive halls, galleries, staircases, and painted ceilings.
There are some organised tours of the house as well as a self-paced audio tour. Unfortunately, we missed a tour, but we did hear a few that were in progress. If you are interested in the details of the house and the family that lives there, they did sound very informative.
What we didn't get is anything for the kids to spot as they went around (like the excellent one at Burton Agnes Hall). There was plenty of strange things for the kids to spot, and something I think Chatsworth should consider introducing.
The food at Chatsworth House
So far there's been a great selection of food at the places we've visited on the #5CChallenge.
The main restaurants at Chatsworth are outside the main house entrance, located in the former stable block. This was very busy when we visited, so you might want to take a picnic at busy times to avoid the queues.
Chatsworth House Gardens
When you think of 'Garden' you might think of lawns and flowers. Well, Chatsworth House has plenty of those and much, much more.
The gardens are massive and are landscaped into many different themes. At every turn, there was something new to see.
There's also plenty of follies, so you can spend a good amount of time exploring the area.
Watch our video below.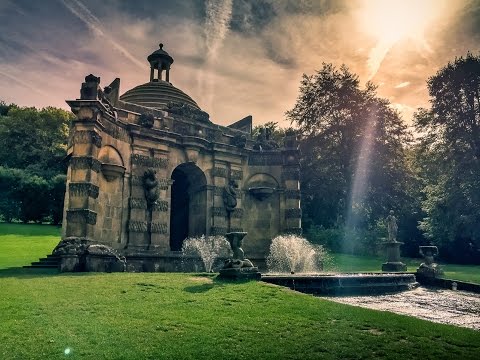 There were lots of interesting sculptures, a grotto to find, a maze which we all really enjoyed. So lots to engage the kids with and keep it interesting for them. All the little streams and bridges to make it more enjoyable for them.
Chatsworth House Parkland
The Parkland around the house doesn't require any ticket other than the cost of parking (which was £4 when we visited).
There're many good walks. Some over gentle rolling grassland, and some up steep wooded hills with rocky outcrops.
Of course, being an 18C estate, there are plenty of follies and things to find too.
There's a good climb up to the tower where you can get impressive views of the landscape and parkland.
Chatsworth House Farm and Play Park
The Farm and Play Park is a separate entry ticket to the main house.
The farm and play park is well worth a visit. The farm area is quite small nicely kept and maintained. There are horses, donkeys, goats, cows and pigs to see.
A litter of piglets caught our eye, and we stopped for a while to watch them play. There are talks and hands-on sessions with the animals so watch out for those when you visit.
The adventure playpark went down a storm with the kids, they loved it, and we could have probably spent a lot longer there than we did.
The playground is a good size with an appreciable variety of play equipment with an area for younger children too.
The zip wire was very popular with the children and lots of parents having a go too ;-)
There was plenty of picnic tables scattered around for mum and dad to grab a coffee and watch the kids let off a bit of steam!
Facilities
 Parking
 Toilets
 Pushchair Friendly
 Accessible
 Dogs Welcome
 Cafe
 Play Park
 Picnic Area
Facilities Details
Pushchairs can be taken around much of the gardens, but are not allowed in the house. Dogs can visit the grounds, but not the farmyard, the house, or the play park.
On The Map
Address
Chatsworth House, Gardens, Farmyard, and Playground
Chatsworth, Bakewell
Derbyshire
Derbyshire
DE45 1PP
England

Longitude: -1.611427
Latitude: 53.227543
We visited for free to conduct this review.