The old part of Annecy is right on the shores of the famous Lake Annecy in France. It's a great place to wander and explore the old streets and many cafes.
There's also a large park and plenty of pedalos for hire, as well as boat trips across the lake.
Our Review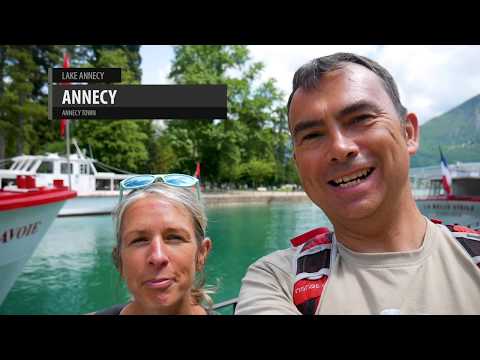 We visited the old town of Annecy while staying at Camping La Ravoire, which is further down along the shores of Lake Annecy.
There is a cycle path, Tour du Lac, that runs from the campsite right into Annecy, and so we cycled to the town, though there are also boat trips that take you across the lake to Annecy.
Our first glimpse of Annecy was in our hire car as we drove to the campsite. We only touched the outskirts of Annecy while driving, and it was no different from any other large town or city, which is not surprising as this is the main town for the Lake Annecy region. So when we arrived by bike, right in the heart of the old town, it was a welcome sight to see the character of the old city.
The old buildings look French or Alpine, yet with the river and cafes to the side, reminds us of Venice.
You could spend a good while walking around the old town, exploring the cafes and shops, through alleyways and side streets.
We did find the cafes and restaurants a little pricey to feed a family, especially for a prime riverside spot. It's quite an experience though, so if you plan ahead, you might budget this as a day out.
Instead, we practised our French in a local boulangerie and bought some food to eat in a quiet square.
On the edges of the old town, towards the centre of Annecy, are more modern shopping centres. We saw quite a lot of outdoor shops in this part of the town, with both big brands like The North Face and smaller more specialist shops for different types of outdoor activities. Annecy area is quite the place for outdoor activities!
If you head back towards the lake, there is a large park, with a huge grassy area that is popular with families having picnics when we visited. There are plenty of Ice Cream stands and parlours too.
On the shoreline, there are plenty of places to hire a pedalo if you want to get on the water under your own steam!
Alternatively, there are plenty of boat trips available, from smaller boats to larger ferries.
Facilities
 Parking
 Toilets
 Pushchair Friendly
 Accessible
 Dogs Welcome
 Cafe
 Play Park
 Picnic Area