Trail Running with Kids
Posted by Gav Grayston.
First Published Feb 2014

; updated May 2023

.
If you fancy going a little quicker than hiking, why not have a go at trail running? You can even go trail running with kids.
---
If you like getting out in the countryside on two legs at a slightly faster pace than hiking, have you considered trail running with your kids?
I am lucky to have the countryside right on my doorstep....well, almost.
Within 100 yards, I can be in the countryside, so that's pretty close, at least.
I also like running.
Like Running?
Now if you are not a runner, the words *like and running *may not go together.
Even as a runner, it's still hard work. But the more you run, the easier it gets (though you then want to run further or faster).
Trail Running
But one thing I don't like is pounding the pavement.
It's, well, boring.
Trail Running is like hiking (in a way), but with you're running, not walking.
Like hiking, you're out in the countryside, running along paths and across different terrain.
One minute you are on solid ground; the next muddy puddles, then slippery gravel.
This change of footing makes it much more interesting than boring old pavement.
Running with Kids and Why it Is Important
As my kids grow, I've encouraged them to come out for a bit of a run now and then. They often run with me for the warm-up mile.
Our eldest has run a few times for her school and has done quite well, even though she doesn't train.
Although I encourage them to keep going and avoid stopping, the running pace with kids is slower. The main thing is getting them exercising and building up stamina, but not making them run to the point where it isn't fun.
The main thing is that they learn to push themselves to achieve something. In this case, they may just be pushing themselves to run up a hill, but I think the principle is a good life lesson, no matter what you do.
Trail Running with Kids
So if you go running with your kids and you like hiking, have a go at some trail running. 😉
Here's a little video we made.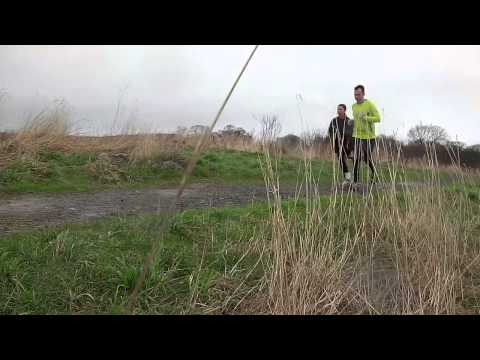 Tips for Trail Running with Kids
Don't go too fast. Stop to take in the views or look at something by the trail.
Make sure everyone pays attention to where they are running
Watch out for tree roots and stones sticking up
Be careful of wet leaves, gravel, and of course, ice if it's cold
Avoid unstable ground
Stick to good trail paths
Bring your phone - just in case of an accident.
Take some water. (I have a water bottle that goes into a carrier on a belt).
Trail running shoes are the best, but if you have good tread on running shoes or trainers, you could use those for a gentle run. Make sure, though, everyone's shoes have good tread.
Wear clothes appropriate for the weather, and make sure you can adjust them so you don't overheat. (You may notice the jacket change in the video above. We had a below-freezing windchill and hail coming right at us when we were on top of the hill, so I gave my jacket to my daughter for extra protection).
With kids, you may need to take breaks. Encourage them to try and make it up a hill, and then let them recover a bit (though if it's windy, watch the windchill on them).
If you are used to road running, you must adjust your stride and aim to make it shorter when out on the trail. If the ground proves unstable, this gives you better foot placement control and improved reaction time.