Trying Rock Climbing as a Family
Posted by Gav Grayston.
First Published Oct 2015

; updated May 2023

.
We gave rock climbing a go as a family. If you think your family would want to try this, read on to find out how.
---
Our kids have done a lot of climbing walls. However, Mum and Dad haven't!
Real rock climbing is something we've always wanted to do, so we decided to tackle it as a family.
Watch the video below to see how we got on.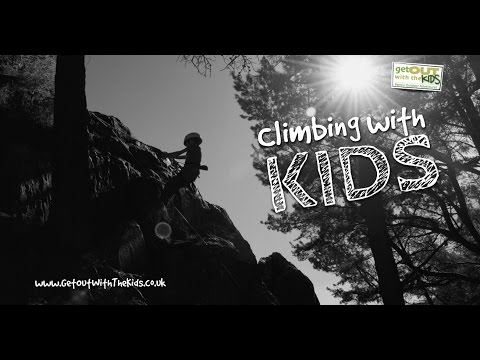 We had booked a family group session with mountaineering guide Graham Uney. This was a great way for us to do it as a family, and Graham provided great instruction to us all.
Our youngest, who is now just seven, had never climbed before. The rock face looked a little daunting, but it didn't put him off, volunteering to go first.
The kids started on the 'Easy' grade to find their legs. We then moved on to the 'Difficult' grade.
Again, the kids tackled it with no problem at all.
Then it was time for Shell and I to give it a go.
Having never climbed properly before, we approached the cliff face ready for the challenge of the 'Difficult' grade.
The climb wasn't too difficult, but we didn't find it as easy as the kids did!
The final climb of the day was graded 'Very Difficult' and involved navigating up a chimney.
The handholds were a little further apart, presenting more of a challenge for our younger climbers.
However, they tackled it with their usual fearless approach.
After sending the kids up the chimney, it was our turn again.
Surprisingly this climb felt easier than the less difficult one though abseiling down was a little harder.
Before finishing off for the afternoon at the crag, we climbed to the top for a spot of abseiling.
The view from the top was stunning.
Only one of us had abseiled before, but we soon all got the hang of it.
Is climbing for your family?
So would your family be up for a climbing activity like this?
Perhaps someone doesn't have a great head for heights?
Well, it's confession time: I don't have a great head for heights either!
I have no problems being up a mountain but looking straight down a drop, some vertigo kicks in. I understand that's a depth perception issue and not just a 'fear of falling', which I think we all have! 😉
push yourself a little out of your comfort zone and give it a go
However, climbing didn't present a problem and I really enjoyed it.
So, if you aren't quite sure, I recommend you push yourself a little out of your comfort zone and give it a go.
It will be a real confidence boost for you and your kids.
Find a good local instructor, and book yourself in as a family group.