Like to cook when camping? Check out these pans
Posted by Gav Grayston.
First Published Sept 2017

; updated May 2023

.
If you are cooking for your family at the campsite then pots and pans are essential, but they can be a bulky item to take. We look at a couple of solutions.
---
Pots, pans, plates, and cups. They're all essential items for cooking family meals at the campsite, but they also can take up a lot of space in your car.
Here are a few items that you may want to consider...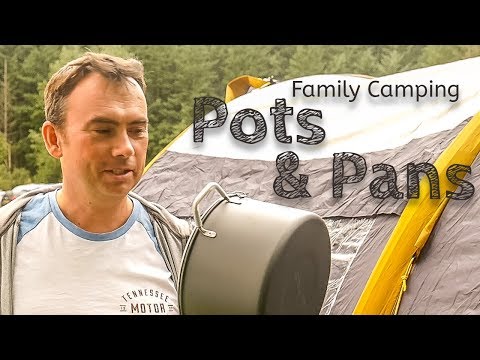 ---
The MSR Flex 4 System
The MSR Flex 4 System is an ideal all-in-one set that's perfect for a family of four.
Included you get two large pans, four plates, and four insulated mugs.
They all fit inside one another, so you only need to find space for the largest pan.
We really liked the family camping cooking set.
The two pans were of a good size for feeding four, and the inclusion of the plates was a good addition. These plates have raised sides, which makes it a lot easier to eat off when camping, as you might be standing or putting the plate on your lap. It also helps prevent the kids from accidents and making too much mess 😉
Another feature I really liked was the locking lid on the large pan. This not only keeps everything together when packed, but it also has holes in, making it easier to clip on the lid and drain things like pasta.
Of course, buying an entire set is more expensive than just buying a pan, but if you need to get all these items, this could be worth the investment. From our use of it to date, it's been good quality and I can't see why it wouldn't last for many years.
---
The Outwell Collaps Saucepan
We have used the Outwell Collaps range of items for years now, from kettles and cups to larger items like bowls, colanders,  and even a kitchen sink or two!
This is another Collaps item we're adding to our collection: the Collaps Saucepan.
Just as with the other items in the Collaps range, this folds down small to minimise the space it takes up in your car.
It worked well as a saucepan and included an insulated locking handle. The only downside was that it wasn't very stable when the pan didn't have any contents in it. This was due to the pan's small base and the handle. It wasn't an issue though once we had something in the saucepan.
---
A Quick Camping Meal
To test these pans, we did our really quick and easy fallback meal: pasta in tomato sauce.
The big MSR pot was ideal for a family sized portion of pasta, and the lid made it easy to drain.
We used the Outwell Collaps saucepan for the tomato sauce. This was going to test if the green silicone remained green...and it did. No tomato stains at all. 🙂
The MSR Flex 4 plates also cleaned up well, and also didn't stain with the tomato sauce.
---
We would like to thank both MSR and Outwell for providing the items for this test. All opinions are our own.