Playing Soldiers: Quick Look at Camo Gear for Kids and Adults
Posted by Gav Grayston.
First Published Dec 2016

; updated May 2023

.
If your kids like to play soldiers then have a look at this camping and den gear we just got. We'll be trying this kit out soon.
---
The guys over at Military 1st got in touch and asked if we thought any of the gear they sell would be good for family activities. I had a good look and was quite impressed with some of their stuff, which would be great for creating dens and going camping - especially wild camping. So they decided to send us some gear to have a closer look. 🙂
Our youngest and his friends love 'playing soldiers' so he was really excited to get his hands on the stuff!
Here's a quick look at some of the items I found on their website. We'll take these out to give them a good field test soon.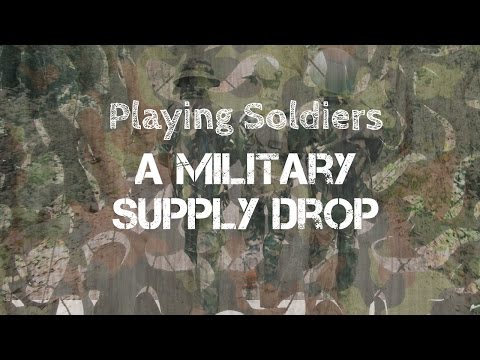 Here are the items mentioned in the video.
---
ProForce Phantom 400 Sleeping Bag
This is a 4 Season+ rated sleeping bag with a reported comfort range of 4°C to -15°C (click here for details on sleeping bag temperature ratings).
This should be one toasty sleeping bag for our winter camps.
It uses manmade fibre called QFX 3D, a spiral hollow fibre meant to compress well and doesn't mind getting wet.
Looking forward to using this soon.
---
Highlander Cadet 350 Junior Sleeping Bag
So this is the child's sleeping bag.
It's a 3.5 Season sleeping bag with a comfort rating of 10°C to 0°C. Not as insulated as the adult's Phantom 400, so I'll be adding extra insulation for our lad for this winter's camps (more on that below).
Like the larger adult sleeping bag, it has 3D hollow fibre, but is much lighter, weighing in at under 1kg.
---
Mil-Tec Poncho Liner
This is a flexible bit of kit. You can use it to provide extra ground insulation, which is how we currently intend to use it, but, as the name suggests, you can also use it to line a poncho.
Basically, use it where you want some additional insulation.
This one measures 210x150cm and weighs under 1kg.
---
Mil-Tec Multi-Purpose Tarp
We've written plenty before on the usefulness of tarps.
This multi-purpose tarp is great for creating shelters, dens, or even makeshift tents.
I was quite impressed with the quality of this tarp, with good stitching, strong loops and eyelets.
---
Helikon Paracord
Something that is always useful to have in your kit bag is paracord.
Military 1st sent 100ft. of NATO Mil-Spec grade 550 lbs paracord.
Just the thing to help turn the tarp into a shelter.
---
Broadleaf Camo Netting
Any good soldier needs to camouflage their den.
Military 1st sent us this 3m x 3m camo net from CamoSystems.
I was quite impressed with the quality of this netting, and we look forward to using it in dens and on our wild camp.
---
Highlander 12L Scout Pack
I believe that kids should learn to start carrying their own gear. This doesn't mean their bags need to be full and heavy, but it does teach them to pack sensibly and not expect you as parents to always do things for them that they can do themselves.
Well, I knew that our little lad, like many of his friends at their age, would love an 'army bag'. There would be no lack of motivation in carrying a proper soldier's bag.
The Highlander Scout Pack is a small, lightweight 12L backpack, used when just light essentials are needed and you need to move quickly.
Being a small bag, I found it a perfect fit for our lad, even if it means that the shoulder straps are adjusted to the smallest.
---
Mini Folding Shovel
When you go off-grid wild camping you have to take care of business.
Although you take most things out with you, burying certain waste can be preferable to carrying it 😉
This is where a small folding shovel is useful.
This one folds up into a small pouch so that it doesn't take up much space in your kit bag.
It also has a serrated edge on one side, so might be useful as a saw too.
---
ProForce Fist Aid Kit
It's always good to have some first aid with you.
I was quite impressed with this handy little pack. It contains a lot of essentials that can be organised well, making it easier to find things in an emergency.
---
Highlander Stove Windshield
A windshield is a useful bit of kit, especially if you are using a small gas stove or other similar burner.
This one from Highlander folds up small and has built-in pegs on each end to help secure it into the ground.
---
Helikon Wildo Camp-a-box
I saw this on the Military 1st website and just had to have a closer look.
It's a great little set that would make an ideal gift, whether someone was into the military side of things or not.
It has a couple of fold-out cups, a plate with lid (that can be used as a second plate), chopping board with strainer, a spoon/fork/knife, and a handy little shaker (yes, I didn't recognise what this was at first!).
---
Nite Ize BugLit
The Nite Ize BugLit is another cool little gadget. Again, ideal for non-military uses.
This little LED light has flexible arms so you can attach it to all sort of things. A branch when wild camping, hang from inside a tent, or even attached to a bike.
---
Time to test it out
We're looking forward to testing this gear out. First up will be creating a den. Stay tuned.
---
Disclaimer, Credits, and Thanks: We would like to thank Military 1st for sending us the above items to test and review.