Taking it All: Inside My Epic Super-Sized Camping Trailer
Posted by Gav Grayston.
First Published Jun 2023

; updated Aug 2023

.
It's time to upgrade to a new camping trailer!
---
Our old camping trailer, a Caddy 550, had been outstanding.
It's done 1000s of miles and is still in good condition.
However, I've been watching for a new trailer for some time.
Why change the trailer
The Caddy trailer was lightweight, and we had the high-sided kit to hold many camping items.
Unfortunately, it only had a tarp cover, so not lockable.
That's not generally a problem at campsites, but if we stop at motorway services or similar, someone has to stay with the trailer.
With the high-sided kit, we couldn't drop the tailgate on the trailer. This meant lifting heavy tents and camping gear out of the trailer. Not always that easy, especially when doing it single-handed.
What I wanted was:
Large enough to hold a lot of camping gear. Very important as we've just downsized our car.
Lockable and waterproof
Easier to get large and heavy things in and out
And a bonus would be to have roof bars
The New Trailer
After looking at second-hand ones and not finding something that worked for me, I decided to invest in a new one.
A bit more expensive than I was planning, but oh, such a lovely trailer! 😁
It's a Tickers Eco box trailer.
View on the Tickners website
They come in a few different sizes and a few different configurations.
Some things I really like:
Good size with a great interior.
Waterproof.
Lockable doors (and with hitch lock).
Jockey wheel and support legs, so it can be kept level. Very handy with the big doors making it very easy to get things in and out.
Door holders so they don't flap around while loading.
Very nicely balanced and tows very well.
You get quite a lot on a Tickner's trailer and many upgrade options.
These are the upgrades I got:
Higher rating to take more weight
And roof bars
Watch our video below to see more.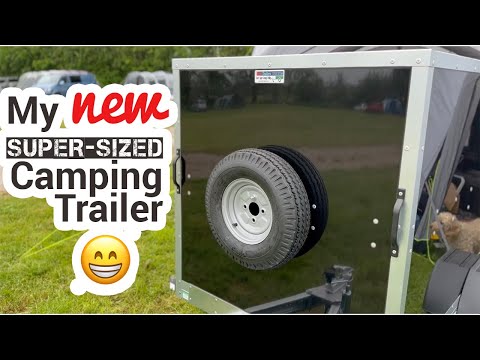 Verdict
As you might have guessed, I like the trailer!
It has made it easier to take everything on big family camping trips. And it's about long enough to fit a sleeping mat in... so it's almost a tiny caravan! 🤣