Who needs a tent? We try out a Ready Camp
Posted by Gav Grayston.
First Published Jun 2016

; updated May 2023

.
Have you ever wanted to go camping but as hassle-free as possible? Then you'll want to read this about staying in a Ready Camp.
---
Does any of these ring a bell with you?
You want to go camping but don't have a tent?
You have a tent, but want to travel a bit lighter?
You have a small tent, but want something bigger for a longer camping holiday?
You take the kids camping, but your partner doesn't like to 'rough it'?
You want to get away quickly Friday night after school without having to set up your tent late?
If any of these apply to you, then a Ready Camp might be just the ticket.
What is Ready Camp?
You can find Ready Camps at 44 of the Camping and Caravanning Club locations throughout the country. And no, you don't need to be a member of the club to stay in one (though club members do get a discount).
What are they? Well, a Ready Camp is a fully-kitted-out Safari tent.
Trying one out: What are Ready Camps really like?
The Camping and Caravanning Club invited us to try one of their Ready Camps.
Having just done six camping weekends, not having to take the tent was a nice change, and we were keen to see what one of these Ready Camps are really like.
no need to set up a tent when we arrived
We visited the Camping and Caravanning Club site at Bala in Wales, which is not far from us.
A quick trip over the mountains after school on Friday and we were there, and no need to set up a tent when we arrived.
The Bala campsite is a couple of miles outside of the town of Bala, which shares the same name as the largest Lake in Wales, which is more correctly called Llyn Tegid in Welsh.
The campsite is smaller than some others but excellent facilities as you would expect, and the trademark friendly and helpful staff that you find at Club campsites.
We were shown to our tent on arrival, and I was very impressed with how new and clean the tent was.
Glamping, but in a practical way for families
Many places offer glamping these days. Some are child-friendly, others are not as child-friendly.
Ready Camp does fall into the 'Glamping' category, though fortunately, these are geared towards family practicality rather than fitted out with boutique fixings that fall apart at first sight of a toddler.
Facilities
So what do you get in a Ready Camp? Well, first off, it is a big safari tent.
There are two double beds, a single bunk bed and a single roll-out bed. They can accommodate a family of six, with a maximum of four adults.
There are two good-sized bedrooms. Both have a dark lining to block out the early morning sunlight.
In the middle of the tent is a table for six, plus there is a hanging rail with clothes storage and a small two-seat sofa.
The kitchen consists of cupboards with plates, cutlery, and pans. There's a fridge (with an ice box), a microwave, a two-ring electric hob, a toaster, and a kettle.
There are also power sockets, lighting (including on the deck outside), and a heater.
There's no sink, toilet, or shower in the tent. That's what the campsite's facilities are for 😉
What you need to bring to stay in a Ready Camp
We forgot a couple of things (like the washing-up liquid!), so here is a quick checklist of what you need to bring with you if you are staying in a Ready Camp tent.
Bedding, including a sheet to cover the mattress.
Towels, including tea towels.
Personal wash items, including shower gel, if you wish to use the club showers (which are free).
Washing up liquid and sponge/dishcloth. (Bin bags were provided in the tent).
A small or disposable BBQ, plus matches, if you wish to use one.
Food and drink.
That's not a lot of items to take, especially compared to all the stuff you usually need when taking the family camping!
Our thoughts on staying in one
Watch our video below for a closer look at the Ready Camp and what we thought of it: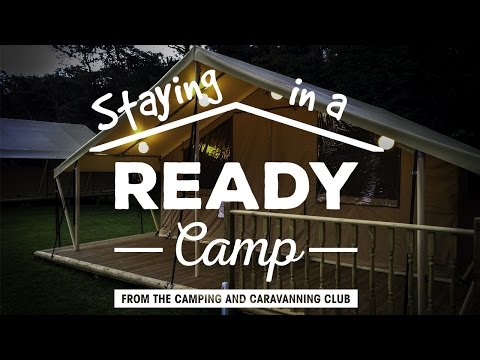 We had plenty of space in the Ready Camp tent. After the first night, everyone said they had a good night's sleep.
Cooking-wise, we kept it simple, using just the toaster, kettle, microwave, and BBQ.
Staying in the Ready Camp was great.
It is especially handy for getting away on a Friday night after school and not having to set up camp. The camp was, well, ready.
Staying in one yourself
You can hire a Ready Camp for a long weekend (Fri-Mon), mid-week, or an entire week or two.
We were staying Friday to Monday but had to leave Sunday as the children needed to back to school first thing on Monday morning, and I needed to go to work 🙁
Click here for more details on booking your stay in a Ready Camp tent.
---
Thanks, Credits, and Disclaimers: We would like to thank the Camping and Caravanning Club for inviting us to stay in one of their Ready Camp tents, and we would also like to thank the Bala campsite staff for their warm welcome.
All photos and opinions are our own.