How to spend the night in the woods with a hammock
Posted by Gav Grayston.
First Published May 2016

; updated May 2023

.
Have you ever wanted to try Hammock Camping? I have. Read this to see what gear I took and how I got on.
---
I have camped a lot in tents, but I have never camped with a hammock. Until now, that is.
As you would expect, much of our camping is taking the kids, which means car camping with a much larger tent. However, we do manage to get away in smaller tents now and then too.
This time, I decided to go solo. As much as I believe we should give our kids many experiences and adventures, sometimes you need to try things out on your own first. If successful, then you might bring the kids next time.
Why go Hammock Camping?
Hammock camping is just as it sounds. You sleep in a hammock instead of the traditional option of using a tent.
There are many great campsites up and down the country with pitches that are perfect for a tent, so why would you want to discard your tent and sleep in a hammock?
so why would you want to discard your tent and sleep in a hammock?
Despite some campsites that allow hammock camping, hammock camping is typically used where you can't pitch a tent.
Hammock camping opens up a whole set of new possibilities if you are into wild camping.
A perfect example is if you were canoe touring and the sides of the river were boggy and covered in trees, where finding a suitable place to pitch a tent will be tough.
Hammock camping opens up a whole set of new possibilities if you are into wild camping.
You are much closer to nature when you go hammock camping
You can also get away with less gear than tent camping, which is important when carrying everything around on your back.
On an entirely different level, you are much closer to nature than when in a tent.
---
Video 1 - Preparing for the Hammock Wild Camp
In this video, I go through some of the gear I plan to take on my Hammock Camping Wild Camp.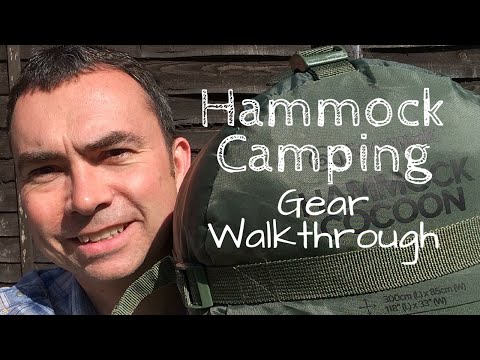 The downsides to Hammock Camping
So Hammock Camping isn't for every situation.
For a start, you need trees the right width apart, are strong enough to take your weight, and will not drop dead branches on top of you. (Seriously, that can and does happen!).
Since Wild Camping in much of the UK is only really tolerated high up in the hills and mountains, you will not find many wild camping spots with trees up in the hills.
And since you are so close to nature, when nature chucks it down, you need additional measures, such as putting a tarp above your hammock and suspending your gear off the wet ground. Oh, and getting changed in the open if you need to.
Plus, you need the right weather.
Hammocks are especially useful in the jungle, where there are plenty of trees, and you want to be off the jungle floor, where there are plenty of things to bite you. The temperatures also tend to be a bit warmer.
The UK climate can be a little cooler than the jungle. So, of course, you use a sleeping bag and perhaps a sleeping mat.
Now getting into a hammock isn't that difficult. But keeping a sleeping mat in place and wriggling into a sleeping bag when in the hammock could take some effort. As the hammock wraps around you, your sleeping bag can also become compressed and may not insulate you quite as well.
This is why Snugpak has come up with the Hammock Cocoon. It's a sleeping bag for your hammock.
Using the Hammock Cocoon
When I saw this at a show last year, I thought the cocoon was an excellent idea. I had been interested in hammock camping for a while but wasn't sure how to do it in the UK without taking just as much gear as if camping in a tent.
With the cocoon, you could sleep in the hammock as normal, and the cocoon keeps you insulated. (That's what I thought, at least!)
Fortunately for me, Snugpak offered to send over their Cocoon system for me to give a try.
Pitching the Snugpak Jungle Hammock
The cocoon can wrap around any hammock. It doesn't have to be a Snugpak hammock. However, I did test it with the Snugpak Jungle Hammock.
It is extremely lightweight and packs into its stuff sack, which becomes a useful storage pocket when the hammock is set up.
Fixing the hammock to the trees was surprisingly easy.
Snugpak's system looks basic but works so well.
It consists of two pieces of paracord that have many knots tied in them.
These knots allow you to thread the paracord back on itself, looping around the tree, and you use the appropriate knot for the size of the tree.
Each end of the hammock has a carabiner clip that attaches to the paracord.
The system is an incredibly easy and fast way to put up the hammock, and it's also very quick to pack away too. Much more rapidly than pitching a tent.
Attaching the Cocoon
The cocoon threads through each end of the hammock, which you then secure to the hammock with a bungee or flexible cord.
Bungee cords were not supplied with the cocoon, so if you get one of these, remember to take some cord with you.
When the cocoon is on and zipped up, it looks like a large green banana suspended between two trees.
The cocoon doesn't take your weight. Instead, it just wraps around the hammock.
Putting the cocoon to the test
We have tested the Snugpak Sleeper Extreme 4-season sleeping bag on a few camps now and have been very impressed. The cocoon looked very similar in construction and insulation, so on a cold early Spring night, I decided to take it out on a test.
The previous night we had snow, and there was still snow on the hills when I headed off. And while I wasn't staying on top of a mountain, I was at a higher elevation, and a beautiful clear night (and cold) was forecast.
---
Video Part 2 - The Hammock Camp Microadventure
Here's the video of my hammock camping micro-adventure.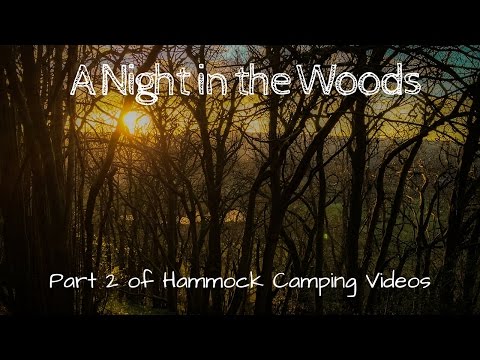 Using the Snugpak Hammock Cocoon in the cold
I should have put more effort into it.
Temperatures were dropping to freezing point.
Pitching the hammock and cocoon was easy. However, I should have put more effort into it.
As you can see from the photo, the hammock is at a definite angle. And although I did improve it after taking the picture, not pitching the hammock correctly came back to haunt me during the night.
Climbing into the hammock, gently swinging from the trees, watching the sunset and the birds come home to roost, and then seeing all the stars was an amazing experience.
Climbing into the hammock, gently swinging from the trees, watching the sunset and the birds come home to roost, and then seeing all the stars was an amazing experience—something I would have missed being in a tent.
Zipping up the cocoon did feel a bit like zipping myself into a body bag.
Inside it is completely dark.
There is a storage pocket in the cocoon and a pocket on the Jungle Hammock, so I could store my head torch and even read a Kindle!
I was surprised at how well the cocoon kept me warm. Snugpak says it creates a microclimate inside, and they are not wrong.
When I unzipped the cocoon to look out, the outside temperature was freezing, but inside, it was warm. Well, for now, at least.
I did wonder if having it zipped up would cause too much condensation, but I didn't notice a problem. The cocoon does have a slight opening at both ends of the hammock, and so maybe that prevented any noticeable condensation.
After a while, though, I found the hammock wasn't that comfortable. Or should I correctly say my inability to pitch the hammock level was causing an issue. I was slowly sliding down to the bottom end of the hammock!
I was also pitched on a slope, and when I moved back towards the top end of the hammock, I found that the cocoon was grounding out.
Unfortunately, I couldn't pitch the hammock any higher as I couldn't get it in since the ground fell away rather steeply.
Lesson learnt: pick a better spot and pitch it correctly.
Lesson learnt: pick a better spot and pitch it correctly.
Another thing seasoned hammock campers will correct me on is not pitching a tarp.
My excuse was that all forecasts were for a clear night. However, when do we believe the weather forecasts?
Plus, I always take a tarp camping, so I'm not completely sure why I didn't bring one!?!
Despite the rain shower, I stayed completely dry inside the cocoon
As expected, the weather forecast was wrong, and there was a small rain shower.
The Snugpak Cocoon isn't designed to replace a tarp, but it will repel some water...which was lucky for me!
Despite the rain shower, I stayed completely dry inside the cocoon.
During the small hours of the morning, it got freezing. I was now feeling the cold inside the hammock.
Snugpack hasn't put a temperature rating on the Cocoon (I suspect because there are no recognised standards for cocoons!), and I had hoped it was a four-season but prepared with additional layers and insulation if it wasn't.
However, I did get cold, and by 3 am, I had a choice of getting up for a toilet break and making it till dawn or break camp and trek back down to the car.
I was disappointed in myself, but I called to break camp and head back down to the car as I couldn't see myself getting back to sleep.
Sometimes, you need to know when to quit.
When I reached the car, a hard frost on the windscreen had to be scraped off.
---
Video Part 3 - Conclusion
Hammock camping was what I was hoping for—a quick and lightweight way to camp in forests.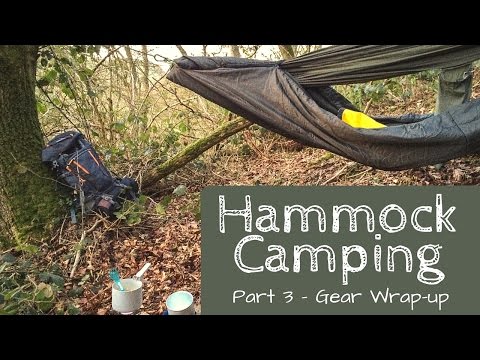 I was impressed with both the Snugpak Jungle Hammock and the Snugpak Cocoon, though I probably pushed it beyond what it was intended to do.
I was also impressed with the Forestia Food and the Easy Camp En Route 65 backpack.
Hammock Camping Gear Wrap-Up
Snugpak Tropical Hammock - Lightweight, quick and easy to put up and take down. Swinging from the trees and watching the sunset was all I had hoped it would be.
Snugpak Hammock Cocoon - For much of the year, you wouldn't need a sleeping bag, but based on my experience, I would also use a sleeping bag when the weather is freezing. It does work well, though. As Snugpak say, it does create a micro-climate inside the cocoon. Some bungee cord to attach it to the hammock would have been a nice addition.
Easy Camp En Route 65 - I've been impressed with this backpack. It easily took all the gear I needed for this micro-adventure and to film it too. Click here to see our review of the En Route 65.
Campingaz Twister Plus Stove - We've reviewed this previously and found it a great little stove. Nice and simple to set up, though a stove with a wider base support would have been better on uneven ground. Click here to read a more detailed review on this stove.
Forestia Food - This was another good item I took. It was tasty, easy to heat, and didn't require me to take any additional water for cooking.
TCT Dry Bag - I didn't cover this in the wrap-up as I need to take it on more of a test. However, using it feels like a quality bit of kit. And stuff stayed dry

😉
---
Would I go Hammock Camping Again?
This adventure isn't over, and I plan to do this again soon. What's more, the kids want to come the next time 😉
---
Disclaimer, Thanks, and Credits: Thanks to the support from Snugpak, Easy Camp, TCT, Campingaz, and Forestia for providing samples that I could use on this hammock camping micro-adventure.  All photos and opinions are our own.