Getting Ready for Autumn Camping
Posted by Gav Grayston.
First Published Sept 2019

; updated Jun 2023

.
September is still a great time to go camping, and a good chance to test out your camping gear for any Autumn getaways.
---
With some good weather forecast for the September weekend, it was time for another camp 🙂
Our lad wanted to invite a couple of his friends, and they all wanted to go back to The Coates Farm in Shropshire.
So we quickly packed the car and headed off.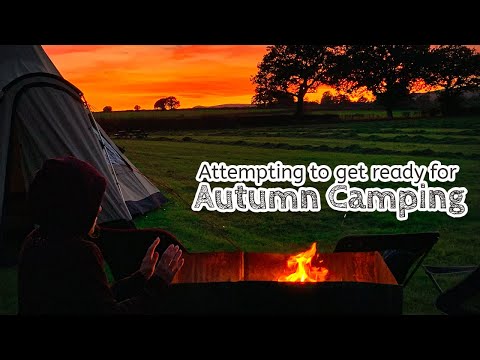 Getting Ready for Autumn
I see in the news lots of talk about Indian Summers and people on the beach down at Bournemouth. However, up here in Shropshire, there's a definite Autumn feel to the air, and the trees are starting to turn.
A tent we really like to take camping in the cooler weather is our Robens Kiowa, especially since you can use it with a wood-burning stove 🙂
The Kiowa is a made from technical cotton, a modern version of the old canvas tent, and we've not used it in a while, so we wanted to get it out and check it's OK. And a bit of weathering would help it too.
With a nip in the air at night, we wanted to test out the stove too 🙂
It's important that the inside of the flue pipes for the stove are cleaned. Soot can build upon the inside, and this can cause a fire in the flue. That's not something you want in a tent.
The Robens Kobuk stove comes with a handy carry case that also holds all the sections of the flue pipe. Unfortunately, when setting up the stove in the tent, I found a few sections of stovepipe missing from the bag!
This meant that the flue wasn't long enough to reach out the top of the Kiowa 🙁
After a quick inspection of the stove and pipes, I had to pack it up! Oh well, we'll just have to go camping again to test it out 🙂
After the camping trip, when putting the tent and stove back in our garage, I found the missing pieces of stove pipe. Why I had removed them from the bag, I have no idea. I must have had a senior moment 😉
The Kids Camping
Our lad is growing up fast. He and his friends have all joined the Scouts now, and so we let them pitch their tent themselves.
They had the three-person Outwell Vigor 3 tent. This is a bit of a different shape than their usual Scout tents, but ideal as it has a good-sized living area for their bags.
With only a little bit of help, they managed to pitch the tent. 😀
The kids also inflated a three-person sofa, which they love after the last time we took them camping.
Cooking
The Coates Farm is a back-to-basics campsite.
There is no Electric Hook-up. No big facilities block.
It's just a grass area on the edge of a field.
There are a toilet and a shower up at the farmhouse, a freshwater tap in the field, and they've now put in a portaloo too.
What there is, is peace and quiet, views of some of the hills, nature, and campfires 🙂
The campsite provides some old oil drums as fir pits, though on this visit, we found some had rusted through.
For cooking, we were going to use the campfire with the Robens Big Horn.
The Big Horn is a large cast-iron hot plate that you place over a campfire or hot coals.
As with all cast iron cookware, you need to make sure it's seasoned well to provide a natural non-stick coating and to protect the iron from rust.
For some reason, Shell wanted to try and cook a pizza on it. We've converted our firepit into a pizza oven before, which redirected the heat to the top of the pizza. However, with the Big Horn, it would almost be like sticking the pizza in a frying pan to cook.
Sure enough, the bottom of the pizza had a rather black colour by the time the cheese melted. Kids usually reject anything that looks burnt. However, they all loved the pizza! It was all eaten straight away! Great idea Shell!
The kids also wanted hot dogs, which is great, as it is something we can let them cook for themselves.
Night
That evening, we were treated to an amazing sunset.
We bought some wood from the farmer, who brought us over a wheelbarrow load, and so we had a good campfire to keep the chill off and told campfire stories into the night.
Packing Away
We had kept enough wood to start the campfire again in the morning. And at first thing, this was needed, as it was a bit fresh. We also needed the fire to cook breakfast.
The Robens Kiowa didn't need much drying out.
The only slow part of packing away this tent is winding up all the guy lines. Otherwise, it goes away quite quickly, with the large central pole folding up quite small.
I was really pleased that the kids managed to correctly roll up their Self Inflating Mats.
For Beaver and Scout Camps, they are instructed to bring a foam roll mat. I can understand why. They are cheap and simple.
With SIMs, a lot of adults can have trouble rolling them up. But it was great to see our lad showing his friends how to do it properly.