How to fix your tent and find replacement parts
Posted by Gav Grayston.
First Published Jun 2012

; updated May 2023

.
There are many ways to damage your tent. We list common accidents and how to repair them, replace them, or find spares. Includes emergency repair tips.
---
So your very expensive tent gets broken or damaged. What can you do? We will show you a few ways to help you fix the problem.
Many family tents are a considerable financial investment, and when accidents happen, such as a bent tent pole, you could be facing the prospect of seeing that investment disappear.
Here's a quick list of broken items and options to repair or replace them.
Fixing a bent tent peg
You will get bent tent pegs, especially if you use the basic pegs that come with some tents.
These tent pegs are quite cheap and will easily bend. Whilst you can try and build a jig and straighten them, it's not worth it.
You can easily pick up replacement tent pegs. However, what you should be doing is upgrading your tent pegs anyway.
Read this article here on what tent pegs you should get.
Replacing a snapped guy line
Guy lines tend to be pretty strong, and I've not come across one that has snapped before, but if it happens to you, don't worry, as you can easily buy replacement guy lines.
Fixing Leaking Tent Seams
What was previously a perfectly dry tent can start seeping water through a seam. This can happen for a few reasons:
The waterproof coating or seam sealant has worn away.
The seam has been stretched too far, and the seal has broken.
An unknown defect has only become an issue due to a change in wind/rain strength and direction.
You should also double-check that the seam is leaking, as sometimes condensation in a tent can make it appear like a leak. If you've not ventilated your tent properly, you could even end up with a pool of water in your tent.
Another thing to note is that some poly-cotton or canvas tents may have slightly leaky seams the first time out, and the material and stitching have yet to settle.
Fixing a small leaking seam is easy.
If it happens when you are camping, then sometimes (if it's not too wet) a bit of gaffa tape could be enough to reduce the problem.
But for a more permanent treatment, you can get some tent seam sealant.
This must be applied when it is dry.
Waterproofing Your Tent
If it's not your seams leaking, but you think that water no longer runs off the tent material as it once did, you can get some treatment for that too.
Even the soapy mixture in your kid's bubbles can be a problem
Did you know that detergent can remove the waterproof coating from your tent? Even the soapy mixture in your kid's bubbles can be a problem.
You can get some spray-on waterproofer, which is handy to take with you when camping.
However, applying to the whole tent is a lot more difficult and can be a bit hit and miss (and also the risk of you making the tent look 'patchy'), but there are some companies that will do this for you, as well as giving the tent a thorough clean to get it looking much closer to new.
Fixing a Bent or Broken Tent Pole
Now the solution to a broken or bent tent pole really depends on the type of tent pole and where and how badly it is broken.
Replacing 'bendy' Fibreglass Tent Poles
If your tent has flexible tent poles (usually made from fibreglass or a composite plastic, typically black or grey), then these are the easiest to repair and replace.
1. Simple DIY Tent Pole 'Gaffa' Repair
These poles can typically split, exposing the inner elastic that holds the different sections together.
The best in the field repair for this is regular gaffa/duct tape.  We've done this before, and the tape held for a few more seasons.
Always take some gaffer tape with you when you go camping.
2. DIY Replacement Section
You can also buy replacements, either complete poles or just the section.
If you want to replace just the section, measure the width and the diameter. You can then find the right size replacement.
You will need to re-thread the elastic through, which will mean dismantling the sections before the broken pole.
Some replacement kits have a useful pull-through for getting the elastic line through the tent pole.
Replacing Steel or Metal Tent Poles
1. 'Correcting' the tent pole
If the bent steel tent pole was a straight section and it is not bent too far out of shape, then try and straighten it yourself.
However, if that's not easy or it is a shaped tent pole, it's best to take it to a metal worker and a similar non-bent pole.
The metal worker will have tools that can easily get it back into shape and heat the pole if necessary to avoid stressing the metal.
2. Replacing the bent pole section
For poles that can't be replaced, then your options are limited.
Sometimes some replacement poles are available for straight sections, but steel tent poles are normally of a specific shape for your tent model.
3. Contact the retailer
The first thing I would recommend is to contact the shop where you bought it from, or if that's not successful, contact another retailer that sells your tent brand.
Some retailers carry a few spares or may have some old stock they might sell you.  Of course, depending on the part, this may come at a slight premium.
4. Contact a spares supplier
Few suppliers provide a service for tent spares.
Once such service is TentSpares.co.uk, a specialist outdoor repair service such as Scottish Mountain Gear.
I can't vouch for their service as I've not had to use it myself (touch wood!), but I know a few other people have.
5. Contact the Manufacturer
Contacting the tent manufacturer is rarely successful. They ship a lot of stock out to retailers, don't carry spares, and don't often carry stock to support customers directly .... unless they sell tents directly to the public, in which case there may be a chance.
You could also expect that the manufacturer can't replace just a single piece of tent pole but can only send (sell) you a complete set, as this is what comes from their production run. This could cost you almost as much as a new tent.
6. E-Bay
For popular tent models, you may find a large second-hand market.  While buying another second-hand version of your tent may sound excessive just for a new pole, it may still be cheaper than other options.
However, watch the second-hand market for other tents sold as spares. Someone else may have damaged their tent but in a different location, and then you can pick it up for a much better price.
Repairing a Ripped Tent
A ripped tent needn't be the end of the tent...if the rip is not too bad.
If you get a small rip when you are camping, gaffa tape will help. You can also buy some tent repair tape for just such an emergency.
Cover the area with a tarp for an emergency repair for a larger rip - you do take one, don't you? (read this).
Some tents come with repair fabric and some adhesive (and a few with a self-adhesive patch). You'll need to apply this when it is dry.
If your tent doesn't come with a patch, you can buy some patches - these may not match the colour of your tent, though. Tenacious Tape (see below) is recommended for this.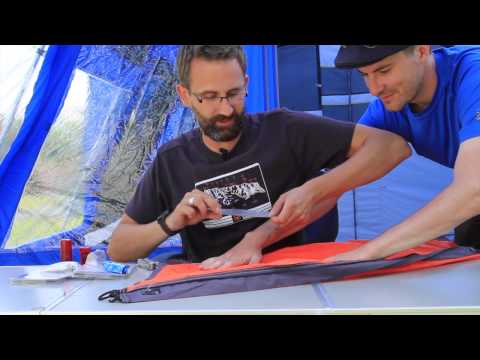 Other than that, you may need to contact a local tent repairer (your local camping shop may be able to recommend one) or try the second-hand market.
---
So if you've got a damaged tent, I hope the above has helped in some way to get the problem fixed.