Should you get a Trailer or Roof Box? Getting your gear to the campsite
Posted by Gav Grayston.
First Published Apr 2014

; updated May 2023

.
Most family campers soon run out of space and ask themselves if they should get a trailer or camper. We consider the pros and cons and share what we have.
---
If you've not done so yet, you will get to a point where you just can't fit any more into your car and ask yourself, 'Should I get a Trailer or Roofbox?'
---
If there's one thing we've learnt about having kids, it's that their stuff keeps multiplying. Not just their stuff, though; everything has to get bigger and in more quantities.
This presents a big problem when going on camping holidays. Your tent is bigger, and you must take a lot of stuff. Add to that, there are other things you might like to take (bikes, canoes, surfboards)....where will it all go!!!
We're a family of 5, and we like to camp from early to late season. Even five 3-4 Season sleeping bags is going to fill a lot of cars.
So we've put together this guide based on the lessons we've learnt so that you can see what may work for your family.
A bigger car?
The first obvious question is: do you need a bigger car?
Now getting a bigger car is much more expensive than just a roof box or trailer, but with a growing family, this may be something you must consider.
We've gradually traded up to bigger and bigger cars. You may also find you are a taxi for your kids and their friends.
Our main family car is called 'the bus'. And do you know what? It's still not big enough.
So you probably need to get a bigger car, but you will still need to decide on a roof box or trailer for all that camping gear......unless you get a van.
Should you get a van?
If we could afford one (and had space), we'd get a VW T5 just for our weekend adventures. (An old Dub would be cool ...but way too expensive).
We wouldn't sleep in it as a camper van (though this family of 5 do), and in fact, a T5 transporter would suit us as we'd use the front 2 thirds as a bus, and the last third as a van.
I'm seeing more and more families with T5s doing this. They no longer stay in the van but use the van to transport the family tent and all the gear.
Unfortunately, I have seen a couple of campsites say, 'No vans!' - I assume that doesn't apply to small camper vans 😐
---
So back to the roof box...
Assuming a van is not within your reach, a roof box may be an obvious way to extend your space.
And yes, this makes sense. It was the first 'extension' to the car that we made. However, there are some drawbacks:
They're not as cheap as they should be (in my opinion), plus you'll need to get some decent roof bars to take the weight.
Most cars can't carry much weight on the roof, even with decent roof bars. So if your tent is big and heavy, you must use something else.
OK - so you'll put sleeping bags in the roof box? If you do, make sure they're watertight. We found a few times when driving to the West Country in some really wet and horrible weather that the roof box wasn't completely dry. Mucky road spray would work its way in.
Getting things in and out is not always that easy. Our roof box is a 'cheap' Halfords one (the biggest I could afford), and there are better Thule designs than ours. However, if you get a bigger car (or a 'bus' like us), the roof box could be very high up. You could always take some steps to help get things in and out, but the purpose of getting a roof box is to reduce the amount of stuff you put in the boot...so where are you going to keep the steps?
**When you are not using the roof box, where are you going to put it? **I have in the past left the roof box on from Spring through Autumn, but with rising fuel prices, I worked out that my 'laziness' was getting quite expensive. Our roof box now suspends upside down in the garage above the trailer.
Having said all that, the roof box is still useful. Wet tarps, beach gear, surfboards, inflatable kayaks, folding paddles, wet suits, etc., go in the roof box.
---
Getting a Trailer
You will need a tow ball fitted to your car (obviously). Several places can do this (we negotiated it with the price of the car when we bought it second-hand).
But before you go out and buy the biggest trailer you can afford, you need to check what weight the car can pull.
The tow bar will have a towing limit and maximum downward weight.
The trailer we bought was a Caddy 530 with side extensions to make it bigger. This trailer takes a lot of gear.
Leave your trailer packed full of camping gear so you can just hitch up and go for a quick weekend getaway
A big advantage of getting a trailer (if you can keep it in a garage), is leaving it packed full of camping gear all the time, which makes it a lot easier to get away for weekend breaks. Simply hitch up and go.
Here's a quick video of our trailer (and a very full garage!)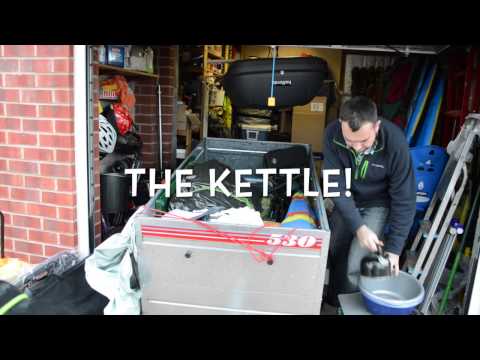 ---
Locking your trailer
In addition to the size and weight, you want to consider the type of top that goes over your trailer.  Our canvas cover gives some flexibility when packing but isn't lockable. You will not want to leave your trailer unattended at motorway services, for example (campsites have never been a problem, though).
Motorway services are a particular issue. It's not uncommon for thieves to unhitch a trailer from a car and drive off with it.
You can get a few locking mechanisms for when the trailer is attached to your car, but to be honest, it's probably easier not to leave it unattended when travelling. This will limit any stops you make on your journey, though.
Our locking mechanism fits the trailer when it is unhitched and prevents anyone from hitching it and taking it away. I recommend you get one of these too. View the Trailer Lock on Amazon
Here's a little video on how the trailer lock works.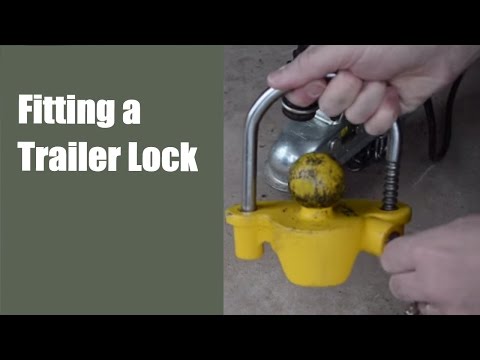 ---
Packing your Trailer
Make sure you put heavy things over the axle. Your trailer should be well-balanced.
We put our heavy Dutch Oven in the centre of the trailer.
We can easily pull our trailer by hand (on the flat) when it is fully loaded and is balanced quite well.
Remember always to secure your load.
---
Driving with a Trailer
Watch your speed
Remember, you will be going slower with a trailer, so take that into account for your journey to the campsite.
Don't be tempted to go fast if you have a small trailer. Small light trailers will bounce around and could become very dangerous.
Trailers whose load isn't balanced will also behave dangerously at speed.
Watch your Sat Nav
Another thing to watch for is your Sat Nav, as those scenic little detours over mountains and small lanes they like to give could be problematic with a trailer. Reversing to a passing point on a narrow mountain lane when you have a trailer on the back is no fun.
Now do it backwards
Reversing has got to be the biggest thing to master when driving with a trailer.
We find this particularly difficult in our car as the trailer is lower than the rear window and narrower than the car. So when you come to reverse, it can be hard to see the direction the trailer wants to go.
The trailer must be in a perfectly straight line with your car to go straight backwards. If the trailer is at a slight angle to the car, the trailer will go in a different direction.
Effectively, when reversing, you must steer in the opposite direction you want the trailer to go.
Trailer Maintenance
You need to keep your trailer in good condition.
When we were looking to buy a trailer, we considered buying second-hand. You can pick up a good trailer secondhand...but there are also some neglected trailers. I would avoid those.
We bought our trailer from new and got a package that included a spare wheel and even a grease gun to keep the wheel bearings in good condition.
Maintenance has been very simple: grease the wheel bearings, check all nuts are tight, check tyre pressure and tread, check electrics, etc.
---
Taking bikes and a trailer
If you have a trailer on the back of the car, then bikes could go on the roof of the car.
However, if you're like most family campers, you will have got (and filled) the roof box on the top of the car. (Plus, if you have a tall car like ours, getting bikes up there is a bit of a challenge.
You can get roof bars for trailers and fit a bike rail to the bars on the trailer - as long as you keep within the trailer's weight limit.  This is probably the best way to take the bikes.
There is an alternative, though...but not one we've tried yet, as you'll see why.
We bought a bike rack that can fit onto the tow bar, but leave the tow ball free so you can still take the trailer.
The bike rack has a plate that fits onto the tow bar behind the tow ball. The rack just simply slots and secures to the steel plate.
This is great. Besides being an affordable bike rack, it's lightweight, quick to fit, and folds away. However, we've not used it when camping yet for the following reasons:
It can only take three bikes at a squeeze. There are five of us, and most bikes are getting bigger.
You must be careful about your tow bar weight limit. You'll have both the bikes and the trailer to take into account. You could easily exceed the mounting point for the tow bar.
With more bikes on there, you have less clearance between the car and the trailer. Tight turns (or when reversing goes bad) will mean squashed bikes.
You can't open the boot with the bike rack attached.
So, as of yet, this great bit of kit has only been used without the trailer, despite buying it to use with the trailer :-/
If you don't have as many bikes as us and are within the tow bar weight limit, this is a great little bike rack to get.  View bike rack on Amazon >
Here's a little video showing how the bicycle carrier fits with a trailer attached.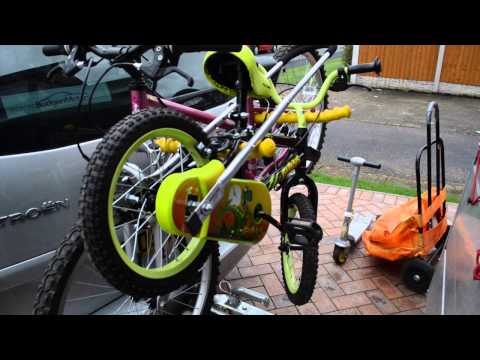 ---
Hopefully, you've found this a useful little guide to getting a trailer (and roof box) for camping.