How to easily cook pizzas on a Cadac stove
Posted by Gav Grayston.
First Published May 2015

; updated May 2023

.
We recently saw a really simple way to make stone-baked pizzas that could work at the campsite...and it was done with a Cadac stove. We quickly look at this fantastic bit of kit...and how to make those pizzas.
---
Pizza appears to be the universal food for kids. No matter which friend our kid invites around, pizza and chips seem to be liked by all.
One of the big hits at campsites and day camps is our pocket pizzas. We've also made a pizza pie in our Dutch Oven.
On a recent visit to a show at Camping World, we saw Cadac demonstrating their cooking system, and what no better way of explaining than by cooking stone-baked pizzas up for the crowd.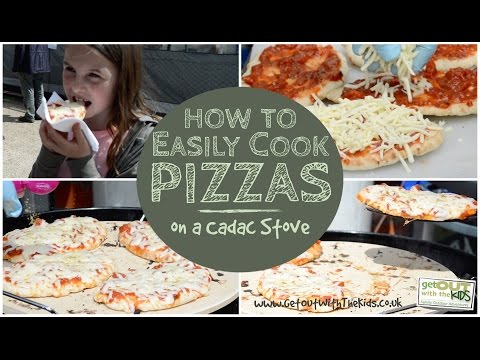 What is a Cadac stove?
I suspect you're wondering what a Cadac is.
Cadac is a South African company that makes a range of outdoor cooking stoves. What they are most known for in this country is for their Cadac Chef range of stoves that are practical to use when camping.
We've not yet used a Cadac ourselves, but we have heard a lot about them, know people who love their Cadac stove, and we were very impressed when Cadac took us through their stove system at Camping World.
What makes a Cadac special?
When you first see a Cadac, it looks like any other gas-powered BBQ.
However, some excellent design features make it much more versatile than a BBQ, and why so many families love using them for camping.
The two Cadac stoves we saw demonstrated were the table-top sized Cadac Safari Chef, which Cadac recommends is ideal for up to four people, and the larger free-standing Cadac Carri Chef.
A small gas cylinder powered both Cadac Stoves, typically lasting 3 hours of continuous cooking.
You can also use a much larger gas cylinder. (Click here to see our guide to gas camping cylinders)
Let's look at what's inside the Cadac.
Using the Cadac as a Gas Hob
Firstly there's a gas hob with pot support to use it just like a regular gas stove.
Using the Cadac as a Gas BBQ
Place the grill arrangement on the Cadac, and you have a gas BBQ.
The lid can also be placed in different positions allowing you to shield the wind regardless of its direction.
Using the Cadac for Roasting
On top of the hob, you place the Cadac roast pan.
Now this isn't like a normal roasting pan. It has a special channel in it that you fill with water.
All the oils and fats from roasting drain into this channel that you can empty after cooking, making cleaning a lot easier.
On top of this pan, you insert a deflector plate.
This is designed to move heat from the bottom to the top.
Above this deflector plate, you put the grill; on top of that, you can use a foil dish for roasting.
Put the lid on, and it turns into an oven, thanks to the deflector plate moving the heat from the bottom to the top.
Using the Cadac as a Griddle
If you don't need to use the Cadac as an oven, you can use it as a BBQ.
Simply place the griddle plate on top of the roasting pan.
You can use this on either side.
One side has grooves for cooking things like sausages; the other is flat and ideal for frying eggs.
Using the Cadac as a Wok
This is only possible on the smaller Safari Cadac stove, but you can turn the lid upside down on that one and use it as a wok!
What about the Pizzas?
So, back to the main business: how to make pizzas on the Cadac.
You set the Cadac up like an oven with the deflector plate fitted, with the grill on top.
On top of the grill, you then place the Cadac Pizza Stone. This is an extra accessory that you can get for both the large and small Cadac stoves.
The way they cooked pizzas was straightforward and something that would be quick and easy to do at the campsite.
Use pitta bread as the base.
Paste Pizza Sauce on top of the pitta bread.
Sprinkle grated cheese.
Place on the pizza stone and put the lid back on the Cadac.
Wait a few minutes…and voila: instant stone-baked pizzas that go down a treat!
Alternative to the Cadac
Have a look at our review of the Campingaz Party Grill alternative.