Back To Basics Camping - It's better than you might think
Posted by Gav Grayston.
First Published Jun 2013

; updated May 2023

.
Back to basics camping is simple if you are prepared. Read this for what to expect, the benefits, and what you need to take.
---
Back to basics camping can often be the best camping trip. You don't always need campsites with lots of facilities. You just need a little preparation.
When we started camping many (many) years ago, we tried to find campsites with good facilities: toilets, showers, etc.
We didn't think you could go camping with kids without these essentials. How wrong we were.
Now don't get me wrong. I like a nice loo and shower. They are just not essential for great camping.
Problems with too many facilities
The problem is generally not with the facilities, but that nearly everybody wants to stay at a campsite with great facilities.
Unfortunately not everyone treats the campsite's facilities well
Campsites with lots of facilities get very busy and can get overwhelmed.  Let's face it, not everyone treats the facilities well, and during a busy holiday period, a campsite can find it difficult to keep up with the cleaning.
We even stayed at one campsite that had a bath in the facilities. Unfortunately, one camper had decided to use it as a loo for number twos! 🙁
So, you hunt for a site with great reviews and facilities, only to find the site packed, facilities overrun, no campfires or BBQs allowed due to how many tents they have on-site, and not enough space between tents to even peg out the guy lines correctly! So what's the alternative?
(Now some campsites have great camping and great facilities, such as Fforest Fields and Nantcol, to name a few).
Back to Basics Camping
On a back-to-basics campsite, you may have a field, drinking water for which you may have to walk some distance, a toilet (a single flushing or composting toilet), and possibly a shower (but don't count on it). No electric hook-up - so leave your TV and microwave at home.
That may sound like a nightmare, but actually, it's getting back to real camping. Here are some of the benefits.
Plenty of space to pitch your tent and enough space to spread out
Very unlikely you pay more for large tents and neither extra charges for awnings and rain shelters you put up
You will typically be allowed a campfire
Fewer cars and plenty of space for the kids to explore and play
Very unlikely that you have to pack up and leave by 10 am the next morning and be faced with another 24 hours pitching fee if you don't
Often a lot quieter at night
Typically in remote spots within beautiful countryside
How do you keep clean?
This is easy.
You need a water carrier suitable for drinking water. One with a tap is ideal.
A bowl. Two are even better.
A kettle to heat water.
You need a way of getting fresh drinking water from the tap to your tent.
The larger the water carrier, the fewer trips you make, but large carriers are heavier when full. You can get carriers with wheels, but they are larger to transport.
After collecting all that water, you don't want to waste it.
We use two cheap washing-up bowls. One under the tap collects water for washing hands. The other we use for washing up.
You can get folding washing bowls to save space.
Watch our video below to see our setup.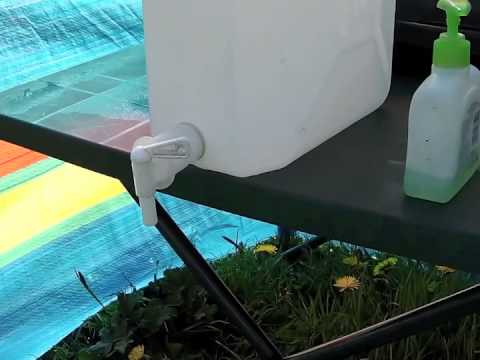 What about a shower?
You can keep yourself clean without a shower for a day or two.
If staying longer, we find a local leisure centre and use the showers there. This not only keeps everyone clean, but the kids always enjoy swimming.
You can also get portable showers.
No Microwave? How do you cook?
Easy. Campfire, BBQ, or Gas Stove.
Don't try and make camping exactly like home; you're camping. Part of the fun that your kids will enjoy is cooking on a campfire.
If you're not sure where to start or what to cook with your kids, then head over to our section on cooking at camp.
If you don't know what gas camping stove to get, then read our guide.
We still often use a basic gas camping stove, mainly to boil water with our whistling kettle. Everything else we cook over the campfire or BBQ (or in a Dutch Oven).
Campfire or BBQ cooking doesn't mean you're limited to eating burnt burgers. We cook all sorts, from the stuff you would typically expect to bread, cakes, and even a Chinese-style stir fry.
What about the toilets?
Like any other campsite, how clean the toilets are depends on how considerate the other campers are.
You may have a single toilet and have to trek up to a farmhouse, a porta-loo (I find these the worst), or a composting toilet.
Many back-to-basics campsites have composting toilets for a couple of reasons:
They don't need fresh and water plumbing. Composting toilets can be placed in remote spots that would be too expensive for flushing toilets.
They are more eco-friendly.
If you want to know what a composting toilet is like, watch our video below.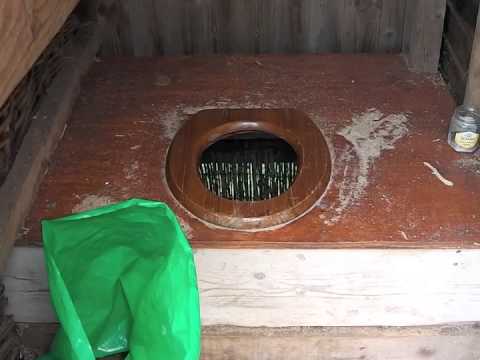 See Also