Camping Pillow Comparison: Which pillow is the best?
Posted by Gav Grayston.
First Published Aug 2017

; updated May 2023

.
We've spent nearly a year testing different camping pillows. Here are our results. Which is the best camping pillow?
---
Since the start of this year, we have been testing different types of camping pillows in the hunt to find the best pillow.
normal household pillows are quite bulky to transport to the campsite
We've always found the best pillows to sleep on have been the ones from our beds at home. The problem is, normal household pillows are quite bulky to transport to the campsite.
We've used a small compression pillow in the past and also some inflatable pillows. However, none of these solutions ever felt that good.
Fortunately, there has been somewhat of a camping pillow revolution over the past few years.
So we've been gathering up a number of styles of pillows to put them to the test.
What we are looking for in a good Camping Pillow
Comfort is the main thing we are looking for in a camping pillow. After all, a good night's sleep does make the camping experience a lot better.
Now comfort is quite a subjective thing, so we've shared the pillows around the family and took a vote on what we thought was best. As it turned out, we all generally agree.
pillows that were too small were not as comfortable
Size is another aspect of comfort. We found that with pillows that were too small were not as comfortable. This is not surprising since we are all used to sleeping on a standard-sized pillow at home. If the camping pillow is too small, your head can easily come off it, and then you'll be struggling to get comfortable again.
The Camping Pillows we Tested
All the camping pillows we tested are better than what we had been using. However, some weren't as good as we were expecting, and others were surprisingly good.
Many thanks to Outwell and Therm-a-rest for supplying different camping pillows for us to test.
Here are the pillows in no particular order.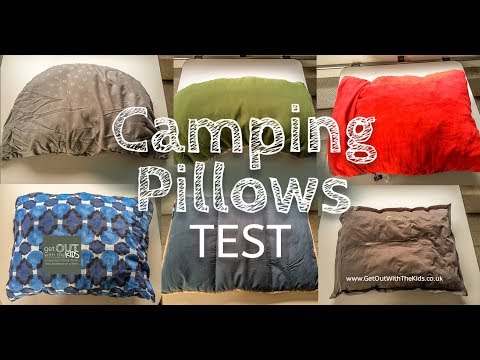 The Outwell Constellation Pillow: Compressible
The Outwell Constellation (RRP £19.99) is a compressible pillow that folds up into half the size, which makes transporting it to the campsite very easy.
When it's unfolded, it is a good width, though we did have a job to get the filling to expand and make it as plush as the picture on the bag. It's also got a soft cotton finish on one side, making it feel more like a pillow at home.
Using the pillow was OK: good dimensions, but we felt it could do with being a bit thicker. Despite this, it's still one of the favourites.
The Outwell Nirvana Pillow: Inflatable
The Outwell Nirvana Pillow (£21.99) can be thought of as a self-inflating mat for your head.
A self-inflating mat for your head
It came in a very small bag, so transporting these pillows would be very easy.
The pillow can inflate, just like a SIM, though fortunately thicker than a SIM. It doesn't fully self-inflate so that it's firm, and I think that's a good thing, as when it has a slight softness to it, I found it a little more comfortable.
It's also got a brushed fabric effect surface.
However, we didn't find the Nirvana as comfortable as a fabric pillow, and although better than inflatable pillows we've had in the past, it still made a little bit of noise as you used it.
Therm-a-rest Compressible Pillows
Therm-a-rest sent us a couple of their compressible pillows to test, and we've been very impressed with them.
They are a good size, though you can shop around for small, medium, large and extra large versions, all in a variety of prints. The fabric has a soft microfibre feel.
The red one is the large version (RRP £21.95), and the blue one is the medium (RRP £18.95).
Both pillows fold up into themselves and are about half the size when folded up.
Now one thing we've found with compressible pillows is that they don't always spring back to life. This isn't the case with these Therm-a-rest pillows, which we have found to be excellent. In fact, their stuffing is so good it makes getting them to stay folded up really difficult!
The Outwell Soft Moon Pillow: Compressible
The Outwell Soft Moon pillow (RRP £7.99) is another compressible pillow. As you can see from its shape, it's designed to fit inside the hood of a sleeping bag.
Again, the pack size is very small, so transporting this to the campsite won't be a problem. When unpacked, we found that the pillow wanted to spring into shape - though the Soft Moon Pillow isn't as big as the other camping pillows we have tried.
Although it is shaped to fit into the hood of a sleeping bag, we did find that it didn't always stay in place if you are tossing and turning at night, and then the smaller size meant it wasn't quite as comfortable as some larger and more expensive pillows.
We also found that although the filling decompresses well, it doesn't offer much support when your head is on it.
Outwell Conqueror Pillow: Compressible and Inflatable
I was really keen to try the Outwell Conqueror Pillow (RRP £32.99) since it has all the features of a good compressible pillow, plus it is inflatable.
you get a big pillow that's small to transport to the campsite
This means that you get a big pillow that's small to transport to the campsite.
Unlike a normal inflatable pillow, it has a soft cotton cover and Isofill Premium stuffing. This means it feels soft and has comfortable compression when you use it.
Also, unlike a normal inflatable pillow, the filling makes no noise. It feels much more like a regular pillow, and you can easily adjust how thick you like it by how much air you inflate it.
Outwell Memory Foam Pillow
So the Outwell Memory Foam Pillow (RRP £21.99) was the big surprise in our test.
It's neither compressible nor inflatable and so slightly larger than the other pillows to transport - but it's not too large: in fact, this is smaller than many other pillows we've tested.
And when you get it out of its bag, it's not very thick either.
I found that this pillow was excellent
So, in theory, this pillow should have scored low.
However, I found that this pillow was excellent.
Although thinner than the others, the memory foam behaves similarly to a larger pillow after it compresses with your head on it. That means you don't need a pillow as thick to achieve the same effect.
It's also completely covered in soft fabric (which can be removed for washing) and feels much more like a pillow at home.
So, what could have been a poor pillow turned out to be very good.
---
The Top 3 Camping Pillows
This was a very hard choice to make, and of course, what feels comfortable to one person, might not feel as comfortable to the next. But, from all the types of pillows we tested, here are our top 3 recommendations.
The Therm-a-Rest Compressible Pillow
This pillow performs really well. It's not the smallest when compressed, but still much smaller than taking a pillow from home.
The Outwell Conqueror Pillow
Combining both compressible and inflatable technologies, this pillow packs down small and get delivers a large comfortable pillow.
The Outwell Memory Foam Pillow
This was a surprise winner as it's neither inflatable nor compressible, but it delivers just enough of what's needed to make this a very comfortable camping pillow.