How to cook a stir-fry over a campfire using a BBQ Wok
Posted by Gav Grayston.
First Published May 2013

; updated May 2023

.
If you like Chinese style food, then you'll like this stir fry you can cook over campfire or BBQ. Cooked with a BBQ Wok.
---
If you like Chinese style food, then you'll like this campfire stir fry. Cook with a BBQ wok over a campfire or BBQ.
Don't just cook burgers over a campfire or BBQ. After a while, this gets a little boring. So here's something a little different to try.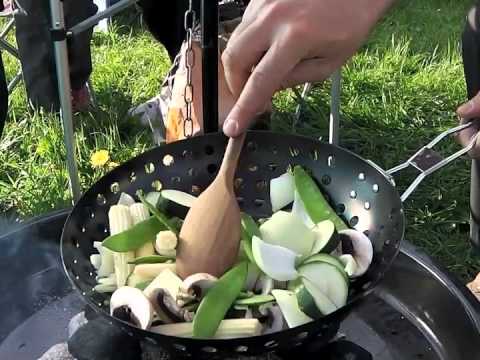 I bought a BBQ Wok.
Unlike normal woks, BBQ Woks have holes in them.  'How's that going to work?' was my first thought!
The holes allow you to char grill food over a BBQ or campfire. So it's a cross between a Wok and a grill.
Making Campfire Stir Fry
This is simple and similar to cooking at home.
If you include any meats, you will want to start cooking them first over the campfire or BBQ
Chop your veggies into large chunks. Anything small will fall through the holes.
Add contents to Wok and cook over fire or BBQ (we used a BBQ already set up).
Now and then stir the contents of the work. You should see the food getting char-grilled.
Meanwhile, cook some noodles.  We used the type that needed rehydrating in hot water - another easy-to-cook food when camping.
Once everything has cooked, pour into a bowl with the noodles.
Add seasoning/sauce and mix. We used a Chow Mien sauce that you just poured over the food.
This was really easy to make and something a bit different to eat when camping.
The stir fry still had that campfire/BBQ char-grilled taste, so it didn't feel out of place when eating around the campfire.
Despite my first reservations about the holes, the BBQ Wok did the job perfectly and is now a great addition to our camping kitchen.