How to make Campfire Potato Cakes
Posted by Gav Grayston.
First Published Nov 2016

; updated May 2023

.
Potato cakes are a really simple side dish to cook over the campfire. We show you how.
---
Potato Cakes are very simple to make, are something easy to do with the kids, and if you are new to campfire cooking, this recipe gets you boiling and frying using the heat of the campfire.
You could make potato cakes for breakfast or as a side dish for your main meal.
They're perhaps not the healthiest of recipes, but these are made with fresh ingredients, and so are probably better for your family than shop-bought alternatives.
---
What you need
Ingredients
There's no surprise that you need some potatoes for this recipe. You'll also need plain flour, an egg, and some oil for frying.
Potatoes
Plain Flour
An egg
Oil
Water
Optional seasoning
Equipment
The equipment you have a few options. Here's what we used.
---
Steps for Making the Potato Cakes
Step 1. Chop and boil the potatoes
Remember to make sure any pots of boiling water are secure and keep kids at a safe enough distance.
Step 2. Mash the potatoes with some flour and egg
Drain, then mash the potatoes and let them cool.
Make a well and add an egg plus any seasoning, such as salt, nutmeg, paprika, or whatever takes your fancy.
Sprinkle over some flour and mix everything together.
Shape the potato mash mixture into burger shapes.
The kids will love mashing and making these potato cakes. Just ensure you have everything you need to clean your kids up before they get their hands on the mixture.
Step 3. Fry the potatoes
Frying over a campfire is more difficult than your cooker's hob at home. Expect a few burnt ones. We certainly had a few that were better than others.
---
Make up your own recipe
This is quite a simple recipe that you can change up to try something different.
For example, try mixing in some grated cheese to make cheesy potato pancakes. You could also add some chopped spring onion too.
---
Campfire Potato Cakes Video
Here's a quick video of our first attempt at making Campfire Potato Cakes.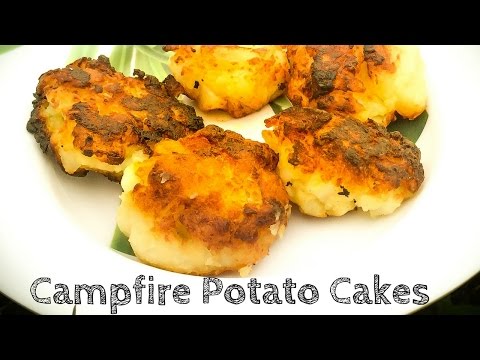 Enjoy!