Making Tracks: Children's Walking Book Review
Posted by Gav Grayston.
First Published Aug 2013

; updated May 2023

.
Making Tracks is a collection of children's walking books for popular regions around the UK, with excellent designs and lots for your kids to do.
---
If you are planning on a family walk in the Lake District, the Peak District, the Yorkshire Dales, or the North Yorkshire Moors we recommend you take a look at Making Tracks.
---
It's nice to come across something that's been well designed for kids. The care and attention that has gone into the Making Tracks series, with beautiful illustrations and child-friendly maps, are highly recommended if you are planning on walking in the Lake District, the Peak District, the Yorkshire Dales, or the North Yorkshire Moors.
On Amazon, the 'Making Tracks' books are labelled as a 'pamphlet'. This does them a big injustice. You don't get a single book (nor a pamphlet!), but instead, you get a box with a number of booklets inside.
The North York Moors set had 12 booklets inside, each covering a different walk, plus an additional booklet with useful information to help your child pack their own items.
The booklets are a great idea as your child can easily carry just the one needed for the route you are doing....and the idea is that they use the booklet and lead you on the walk, so it needs to be something they can easily manage.
The maps are put together well in a child-friendly way, pointing out easy items to make it simple for them to navigate.
The routes aren't too taxing either, and only cover a distance of two to three miles.
To keep their interest along the walk the books also point out interesting things to see, either in the landscape, nature, or an attraction. There are also activities that they can do before or after the walk, such as making a collage, and even baking some buns to take on the walk.
The only downside we found to Making Tracks is that they could do with covering some more regions as these are excellent books, and well worth checking out if you are walking in the Lakes, the Peaks, the Dales, or the North York Moors.
---
Here's a quick video we put together if you want to see more.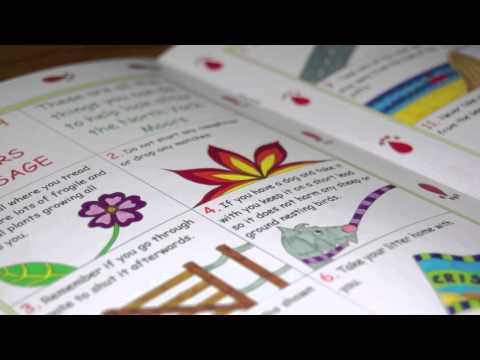 ---
You can buy the books individually or get the complete set from walking-books.com.
These books have also received great reviews on Amazon.
With thanks to walking-books.com for providing a copy of Making Tracks for this review.